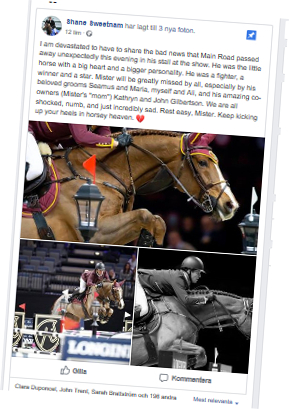 Shane Sweetnam´s Main Road (SWB born 2008 by Heartbeat out of Main Mirco (1) 25232 by Irco Marco-Crown Point xx, breeder Marina Björkman Team AMY HB) has unexpectedly passed away in his stall at a competiton show in Wellington. Sweetnam writes; "He was the little horse with a big heart and a bigger personality. He was a fighter, a winner and a star".
Main Road was sold as foal by his breeder to Grevlundagården i Vitaby AB. He got a diploma as jumping horse as 3-year old and placed 5th in the Breeder´s Trophy final as 6-year old (with Stephanie Holmen). Main Road was sold to Ireland 2014.
Main Road was 3d best SWB in Horsetelex´s earning ranking 2018 (with 216 590 €). Main Road was 4d best SWB in WBFSH´s ranking 2018 and 6th 2017.
Main Roads breeder Marina Björkman will show Main Roads close relative Main Cornet at the Swedish Stallion Test this year. Main Cornet´s half brother Main Defender was approved for breeding in 2018.
Sweetnam owns Main Balouca and Main Keenan, both close relatives to Main Road.