CDI**** Lier, Belgium february 27-march 3
Felicia Olofsson (SWE) and Bellman 1196 (SWB born 2006 by Hermes out of Bellona (33) 29397 by Prestige-Warsteiner, breeder Birgitta Österberg and Filip Wilhelmsson) placed 4d in the Junior Freestyle with 71.333%, 5th in the Junior Team Test with 68.030% and 5th in the Junior Individual Test with 68.284%.
Michelle Hagman (SWE) and Chagall H by Swedish stallion Chirlon 870 placed 5th in Grand Prix.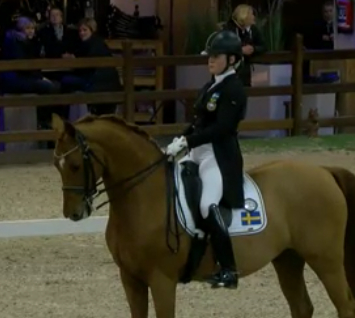 Felicia Olofsson and Bellman 1196 (SWB).