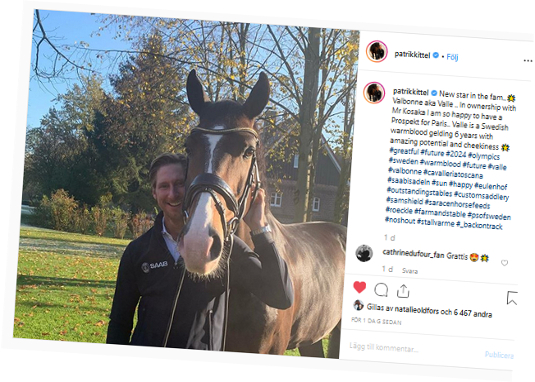 Marita Strauch has sold Bergsjöholms Valbonne 1376 (SWB born 2013 by Zack out of Via Veneto (F2) by Epson-Favorit, breeder Marita Strauch, Stall Bergsjöholm) to Swedish Patrik Kittel and Japanese Masahiro Kosaka.
Bergsjöholms Valbonne was approved in february 2018 as 5-year old and got 8.58.57.07.07.0=38p for his conformation (type, Head/neck/body, legs, walk, trot) and 8.0-7.5-8.5 for gaits under saddle (scale 1-10). The test riders in dressage gave him 9 and 8 points. His dame Via Veneto has placings in Prix St Georges and has left 6 offsprings (2011-19).
Emelie Brolin and Bergsjöholms Valbonne placed 8th in the Scandinavian Open final for 5-year olds, 5th in the Swedish Breeder´s Trophy final for 5-year olds and represented the Swedish Warmblood Studbook at the World Championship for Young Dressage Horses in 2018.
Bergsjöholms Valbonne 1376 covered 10 mares 2018 and has now been gelded.
Maybe Valbonne will be a prospekt for the Olympic Games in Paris 2024?