Details
CDN/CSN Falsterbo Horse Show 7 - 15 July 2012
Marcus Westergren (SWE) and Casa de la Marta Bay (SWB born 2003 by Casa Grande out of Emalza 25718 by Zalmeco-Robert, breeder Stuteri Salomonbay) won 1.45, qualifier for the CIO*****. Emma Emanuelsson (SWE) with Titan (SWB born 2003 by Camaro M out of Tega (55) 26584 by Cardento-Bonaparte, breeder Annika Wärmefjord) placed 2d and Malin Nilsson (SWE) with Prizilla (SWB born 1998 by Cardento out of Pilar 24276 by Kaliber-Anart, breeder Lena Nilsson) placed 3d.

Malin Fredriksson (SWE) with Softline H (SWB born 2005 by Spender S out of Queen 28949 by Quinar-Athlet Z, breeder Heliotrop AB), Satu Liukkonen (FIN) with Chill Out (SWB born 2005 by Cagliostro out of Rox Zäta (42) by Robin Z-Mowgli, breeder Susanne Persson),  Henrik Ankarcrona (SWE) with Vincero (SWB born 2005 by Emmerton out of Dietrich (F2) 24874 by Robin Z-Swift, breeder Flyinge AB), Jüri Sokolovski (SWE) with Izinbyeva Katalei (SWB born 2005 by Last Liberty out ofIzolasco 27954 by Libero H-Nimmerdor, breeder Stall Katalei), Emma Persson (SWE) with Cannonball (SWB born 2005 by Cornetto out of Freedom SN 27777 by Cardento-Irco Marco, breeder Emma Persson), Amanda Ericsson (SWE) with Crimson (SWB born 2005 by Tornesch out of Iris 27556 by Calypso Ask-Theoloog, breeder Charlotte and Pam Persson, Stuteri Arch), Satu Liukkonen (FIN) with Argus da Carma (SWB born 2005 by Argentinus out of Caramell (63) 19335 by Stanford-Caracas, breeder Maria Olsson), Magnus Westergren (SWE) with Zorba J (SWB born 2005 by Camiell-Flamingo Z out of Rocksette 23840 by Rocky-Roman Way xx, breeder Annelie Jävergård), Fredrik Jönsson (SWE) with No Worries (SWB born 2005 by No Limit out of Garesse 27532 by Voltaire-Gag xx, breeder Katri Wäyrynen), Roberto Cristofoletti (ITA) with Cortina (SWB born 2005 by Chess out of Ottili 24198 by Swift-Falstaff, breeder Madeleine Lindqvist), Andrea Månsson (SWE) with Argentina SN (SWB born 2005 by Argentinus out of Amanda (5) 24063 by Damiro-Ciceron, breeder Birgitta Jonasson), Victoria Almgren (SWE) with Monopol Hästak (SWB born 2005 by Cuper out of Indra Hästak 28714 by Cortus-Caracas, breeder Hästak AB), Royne Zetterman (SWE) with Cougar Q (SWB born 2005 by Camaro M out of Irco´s Diamond by Irco Mena-King of Diamonds, breeder Eva Olausson), Fredrik Linell (SWE) with Tellus (SWB born 2005 by Tornesch out of Panthalassa 28713 by Cardento-Robin Z, breeder Göran Linell family) and Satu Liukkonen (FIN) with Beluga (SWB born 2005 by Cobra out of Barracuda 24884 by Cortez-Leuthen I, breeder Agneta Tegnér) were all among them who hade a clear round and won 1.35, Swedish 7-year old Show Jumping Championships – Qualifier I for Finals.
Complet results >>
Source http://online.equipe.com
Details
The Swedish Equestrian Federation and Swedish Warmblood society have reached an agreement concerning the selection policy of a Swedish team for the 2012 World Championships for young dressage horses in Verden on 1 - 5 August 2012. Only Swedish bred and registered 5 and 6-year olds will be submitted on the team.
Ridsport.se reported that in the past also foreign approved stallions were accepted on the team. Last year this "open" policy led to controversy when selectors decided to take Oldenburg licensed (now gelded) Sir Dee (by Sir Donnerhall I x Faberge x Sandro Song), which is trained and competed by Magdalena Skatt and partly owned by Swedish Equestrian Federation. The SWB board changed the decision, overruling the selection committee's choice and Sir Dee was not allowed on the team.
Details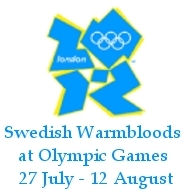 On Sunday 8 July the Swedish Equestrian Team to the 2012 Olympic Games in London were announced.
The horse and rider combinations are:
Show Jumping
Jens Fredricson with Lunatic (SWB born 1998 by Landlord out of Utriette 17843 by Utrillo-O´den, breeder Magnus Dyrendahl), Rolf-Göran Bengtsson with Casall, Malin Baryard-Johnsson with Tornesch 1042 and Henrik von Eckermann with Coupe de Coeur.
Lisen Bratt-Fredricson with Matrix (SWB born 2002 by Cardento out of Medusa 17845 by Maximus-Drabant, breeder Charlotta and Jan Forsman) is reserv.
Eventing
Sara Algotsson-Ostholt with Wega (SWB born 2001 by Irco Mena out of La Fair 25359 by Labrador-Prince Fair xx, breeder Margareta Algotsson), Niklas Lindbäck with Mister Pooh (SWB born 2000 by Majim G out of Trollop xx 24818 by Tammer Fors-Eaudamon, breeder Stall Pooh), Linda Algotsson with La Fair (SWB born 1997 by Labrador out of Princess Fair 20317 by Prince Fair xx-Cosmos xx, breeder Margareta Algotsson), Malin Petersen with Sofarsogood and Ludwig Svennerstål with Shamwari. Niklas Jonsson with First Lady (SWB born 1999 by Sack out of Fleur III (F2) 20264 by Steve´s Friend xx-Napoleon, breeder Inger Rosberg) is reserv.
Dressage
Tinne Vilhelmson-Silfvén with Don Auriello, Patrik Kittel with Scandic and Minna Telde with Santana 1111.
Rosie Mathisen with Bocelli 1044 (SWB born 1999 by Don Schufro out of Ballerina 24034 by Bernstein-Toe Hold xx, breeder Gränsbo Stuteri) is reserv.
Source http://www3.ridsport.se
Details
CSI* Gera, Germany july 4-8 (week one)

Eldorf (SWB born 2004 by Emmerton out of Eldfågel by Haydn-Steve´s Friend xx, breeder Katarina Jacobson) and Alexander Zetterman (SWE) placed 12th in 1.45, 3d in 1.40 and 12th in 1.35. Caramelle (SWB born 2005 by Cardento out of Amelie 27373 by Amiral-Unesco, breeder Karoline Kampe) and Alexander placed 5th, 8th and 9th in 1.35-classes for 7-year olds.
Details
CDI***/CPEDI*** Hartpury, Great Britain 4-8 july
D-Niro (SWB born 1999 by D-Day out of Alitalia 18708 by Napoleon-Herkules, breeder Christina Almström) and Jacqueline Brooks (CAN) placed 2d in Grand Prix Special.
Source http://www.hartpury.ac.uk