Sport & Breeding News
WBFSH Top 100 ranked stallions
Wednesday, 26 October 2011 00:00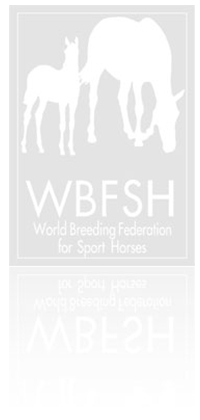 In late autumn each year, the WBFSH sire Rankings are produced in cooperation with the FEI. Based on the results of their offspring, each stallion is ranked in the WBFSH Stallion Ranking.
The Swedish Warmblodd stallion Briar 899 is ranked 11th in the top 100 sire in dressage ranking. The Swedish Warmblood stallion Master 850 is ranked 20th.
Top 100 ranked dressage stallions

The Swedish Warmblood stallion Irco Mena 763 is ranked 13th in the top 100 sire in eventing ranking.
Top 100 ranked eventing stallions

Flyinge State Stud under threat!
Saturday, 22 October 2011 00:00
The breeding department at Flyinge, a former state stud in Sweden which is celebrating its 350 year anniversary this year, is under threat of closing down.
According to people close to the management, the general director and his team have received an ultimatum from the board of the directors, which owns the Flyinge foundation: "Find a solution or close down within two weeks!"
SWB Zidane approved in SF
Wednesday, 05 October 2011 00:00
The Swedish Warmblood stallion Zidane (born 2006 by Silvano out of Jeanne d´Arc 28716 by Don Schufro out of Wilma Hopp by Freimoor-Ceylon-Astronaut) is now approved by SF, Selle Français. Zidane is bred by Åsa Ölander and Christian Gergils in Lillkyrka, Sweden and owns by Sara Magnusson how lives in France.
It was in connection with the French Championships in Saumur that Zidane was examined for the French breeding association.
Monday, 03 October 2011 00:00
CDI-W/Y/J in Devon sept 30-oct 3
D-Niro (SWB born 1999 by D-Day out of Alitalia 18708 by Napoleon-Herkules, breeder Christina Almström) and Jacqueline Brooks won Olympic Grand Prix Special!
Silver Label (ex Dirigenten, SWB born 1997 by Rambo out of Nicea (16) 21730 by Urbino-Indus, breeder Ann and Torsten Persson) and Nicolas Torres Rodriguez won the Junior Team Test and the Junior Individual Test.
Source http://www.dressageatdevon.org
Sunday, 25 September 2011 00:00
CDI Saumur, France 22-25 september
Bukowski (SWB born 1999 by Briar out of Sunjist xx 23884 by Junius-Green God, breeder Erik Magnusson) and Anders Dahl (DEN) won Grand Prix Freestyle and placed 2d in Grand Prix.
Zidane (SWB born 2006 by Silvano out of Jeanne d´Arc 28716 by Don Schufro-Freimoor, breeder Åsa Ölander and Christian Gergils) and Sara Magnusson (SWE) placed 2d in the qualifiqation round with 78% and placed 3d in the final for 5-year olds with 80.20%. They placed 3d in the French Championships for 5-year old dressage horses with 80.37%!
Source http://www.cadrenoir.fr
Tuesday, 20 September 2011 00:00
Brio born 2005 by Bolero out of Pudding on Aires x by Zuppardos Fable xx got approved on the Swedish Warmblood inspection tour. He received 38 point for conformation, 8 for walk, 7 for trot and 8.5 for canter. That gave him a total score of 54 points and approval for two years.
Brio is Boleros first US born foal and is bred by Ginn Farm Dressage and Sport Horses.
Source http://www.swanaoffice.org
SWB Agastrofos win his GP debut
Friday, 02 September 2011 00:00
On September 2, 2011 at the Horse Park of New Jersey Dressage Agastrofos (SWB born 2002 by Briar out of Hera (F2) 27769 by Nocturne-Magini, breeder Hans-Yngve Göransson) and Kevin Kohmann won the Brentina Cup Grand Prix Class!
« StartPrev181182183

184

185186187188189190NextEnd »
Page 184 of 192