Sport & Breeding News
Three young riders bringing their SWB´s to the Netherlands for training
Tuesday, 15 November 2011 20:01
In sept young rider Elisabet Hjelm moved to the Anky Grunsven Education Center. She is now trained by Anky, works as groom at the barn and rides several horses a day. She has brought her chestnut Chock (SWB born 2003 by Chapman out of Mercedes 26330 by Master-Kew Gardens xx) to the Netherlands. Read more.
Johanna Due-Boije have got a permanent employment with Anky van Grunsven and will go there early next year. She will take with her two horses, Don Corleone (SWB born 2001 by Don Schufro out of Boette (43) 28668 by Bolero-Pajazzo) and Hankey Bannister (SWB born 2007 by Figaro R out of Savila 24843 by Sunshine Prince-Lambert).
Lina Andersson has moved to Adelinde Cornelissen for training and competiton. She has brought her two horses, Sargon (SWB born 2005 by Saigon out of Nightingale 26214 by Nooitgedacht-Brabant) and LT Lionheart (NWB born 2000 by the Swedish Warmblood stallion Löjtnantshjärta out of Luxzus by Diamond). A month ago, she and Sargon made a training video for Adelindes new website:
Sunday, 13 November 2011 00:00
CSI**** Toronto, Canada november 8-13.
Percynality (SWB born 1997 by Cockpit out of Cavatina 17615 by Cavalotti-Crown Point xx, breeder Ingela Bergholtz) and Daniel Bluman placed 5th in 1.45.
Source http://www.royalfair.org
Sunday, 13 November 2011 00:00
Atlanta Fall Classic at Georgia International Horse Park, november 7-13.
Cadence (SWB born 2001 by Cardento out of Main Mirco (1) 25232 by Irco Marco-Crown Point xx, breeder Marina Björkman) and Megan Edrick won the EMO Grand Prix!
Source www.classiccompany.com
Sunday, 06 November 2011 00:00
The Galway Downs International Three Day Event, november 3-6.
Eveready II (ex Everbaby, SWB born 1999 by Irco Mena out of Fleet Swinger xx 25207 by Cruise On In-Tumble Turbie, breeder Crabo family) and Barbara Crabo placed 3d in CCI***!
Barbara Crabo and Over Easy (SWB born 2006 by Quite Easy out of Olivia of GCF by Amiral-Herkules, breeder Bo Crabo) won CCI*.
Source http://eventingscores.com
Bukowski is sold to Korea
Friday, 04 November 2011 22:32
Eurodressage writes:
"Anders Dahl has sold his Grand Prix horse Bukowski to Korea. With Olympic fever raging the Swedish warmblood gelding Bukowski sold as Olympic hopeful to Dong Seon Kim.
...
Anders trained the bay to Grand Prix level and competed him successfully at international GP level since 2009. Unfortunately, the Danish Equestrian Federation never selected him on their championship team, which left the rider very disappointed.
...
Bukowski, nicknamed Bam Bam, will continue his career under the 22-year old Dong-Seon Kim, who lives in the States and trains with Korean Jung Kyun Suh, who rode at the 1988 Olympics aboard Reiner Klimke's Pascal."
Read more
Bukowski is born 1999 by Briar out of Sunjist xx 23884 by Junius xx, bred by Erik Magnusson.
Sunday, 30 October 2011 00:00
Washington International Horse Show 28-30 october
Ligist (SWB born 2000 by Levantos II out of Chamina (5) 22132 by Robin Z-Hertigen, breeder Lars Erik Fryberg) and Reed Kessler won 1.50!

Source http://www.wihs.org/
Horsecity.com writes:
"Beginning the evening session, Reed Kessler, of Armonk, NY, rode Ligist to victory in tonight's $31,000 International Open Jumper 1.50m class held just before the Puissance. In a faults converted format, Kessler and Ligist jumped clear and completed the course in 54.220 seconds.
Kessler beat out Nick Dello Joio and Geledimar Z, owned by Wembley Farms Inc., who finished in 55.220 seconds. Third place went to Richie Moloney and Equinimity LLC's Alsvid with their time of 55.420 seconds.
Kessler is just seventeen years old and showed Ligist (a.k.a. Goose), an eleven-year-old Swedish Warmblood gelding by Levantos II, in the junior jumpers at last year's WIHS. The pair moved up to competing at the international level this year and showed in Europe over the summer.
"It has been a big step up," Kessler acknowledged. "We only got Goose as a junior jumper and that is what everyone thought he could do, but I always thought there was a little bit more in him. Every time we move him up he is great, so hopefully we will keep on moving up."
Speaking about her ride tonight, Kessler stated, "I haven't had the best week, but my horses have jumped great and I just really wanted to go out with a bang. I knew the course had been tough and there were not a whole lot of clears, but I knew Nick was pretty quick, so I just tried to make some good turns and he jumped super."


WBFSH Top 100 ranked stallions
Wednesday, 26 October 2011 00:00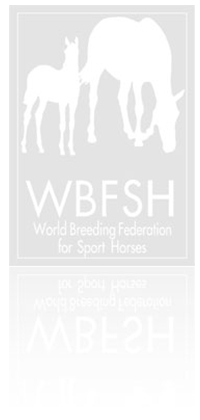 In late autumn each year, the WBFSH sire Rankings are produced in cooperation with the FEI. Based on the results of their offspring, each stallion is ranked in the WBFSH Stallion Ranking.
The Swedish Warmblodd stallion Briar 899 is ranked 11th in the top 100 sire in dressage ranking. The Swedish Warmblood stallion Master 850 is ranked 20th.
Top 100 ranked dressage stallions

The Swedish Warmblood stallion Irco Mena 763 is ranked 13th in the top 100 sire in eventing ranking.
Top 100 ranked eventing stallions

« StartPrev181182183184185186

187

188189190NextEnd »
Page 187 of 195