Details
CDI* Lima, Peru december 1-2
Sylvia Fort Brescia de Mulder (PER) and Tiny Cloud (SWB born 2006 by Figaro R out of Ecurie Trigon by Pascal-Dragon, breeder Irmeli Sillantaka) placed 2d in Intermediarie I with 60.833%.
They got a bronze medal at the National Championships!
An KWPN-offspring to Briar, Briars Boy, won Prix St Georges.
Details
Lena Hansson has sold Trezeguet (SWB born 2013 by Turmalin out of Bolonga by Chairman La Silla-Cobra, breeder Lena Hansson) to Jeroen Dubbeldam and Annelies Vorsselmans, Netherlands,
Grand dame Beluga 29232 is placed in international 1.50 with Tom Foley. Great grand dame Barracuda 24884 is placed in S-level.
Source lenahanssonsfacebook
Details
Eva Maria Pracht (CAN) and Emirage (SWB born 1975 by Emir out of Gumman (17) 10936 by Quantas xx-Eros, breeder Bengt Nyberg). Eva Maria and Emirage won a team Gold medal at Pan American Games 1987 and a team Bronze medal at Olympic 1988.
Eva Marias daughter Martina Pracht competed Emirage at Olympic 1992. In 1993, Pracht and Emirage were named Canadian Grand Prix Champions.
Martina and her mother retired Emirage at the 1994 Royal Agricultural Winter Fair in a special ceremony. Emirage died, 27-years old, in 2002.
Emirage (SWB) from SWB Gate on Vimeo.
Details
Ashley Nicoll (CAN) and Reipo CRB 9025 (SWB born 1974 by Emir out of Russi (36) 8001 by Utrillo-Ozon, breeder Bengt Erlandsson) won a team Bronze medal at the Olympic Games 1988 and placed 6th in the World Cup finals in Sweden 1989.
Reipo was exported to Canada. In 1987 he got approved in USA and got 98789=41 points for his conformation. Reipo is father of the Canadian bred Swedish Warmblood mare Raffles. Raffles and Andrea Bresee was member in the Canadian Dressage Team won the Silver Medal at the 2007 Pan American Games.
Samuel Schatzmann (SUI) with Rochus (SWB born 1975 by Flamingo) out of Reipos dame Russi (36) 8001 won a team Silver medal at Olympic Games 1988.
Read more about Russi (36) 8001 >>
Reipo CRB 9025 from SWB Gate on Vimeo.
Details
Patrik Kittels Toy Story (SWB born 2000 by Come Back II out of Cessna (46) by Concorde-Kaliber, breeder Marie and Olle Bjernick) has passed away.
Toy Story was placed 8th in the World Cup Dressage Finals 2012 and won the Swedish Dressage Championship 2013 and 2014. They competed at the European Championships 2013.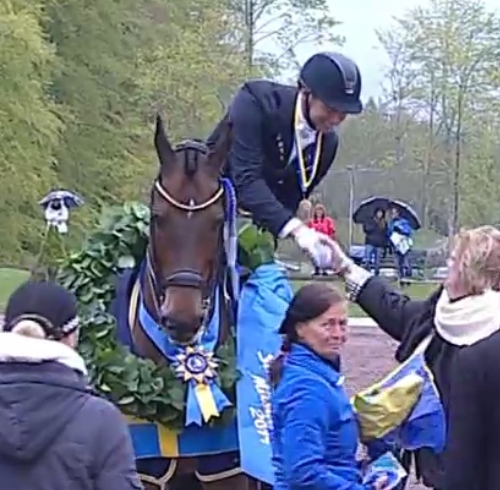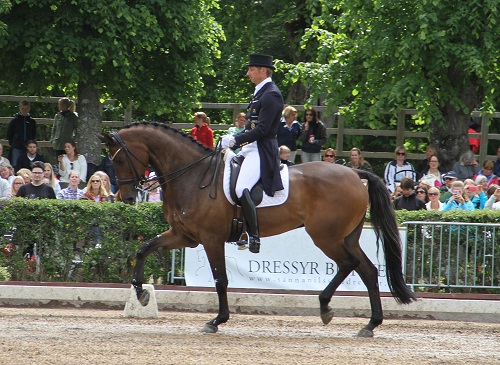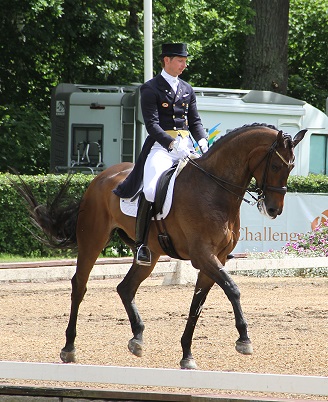 Source patrikkittelsinstagram