Sport & Breeding News
Friday, 16 February 2018 00:00
CSI*** Neumünster, Germany february 15-18
Robert Vos (NED) and Carat (SWB born 2000 by Cardento out of Tiffany 20283 by Krevad-Falstaff, breeder Bengt Wallin) won 1.50, Voigt Logistik Cup.
Svenja Herz (GER) and Alicia SN (SWB born 2004 by Feliciano out of Amanda (5) 24063 by Damiro-Ciceron, breeder Birgitta Jonasson) placed 5th in 1.45, Preis des Holsteiner Verbandes.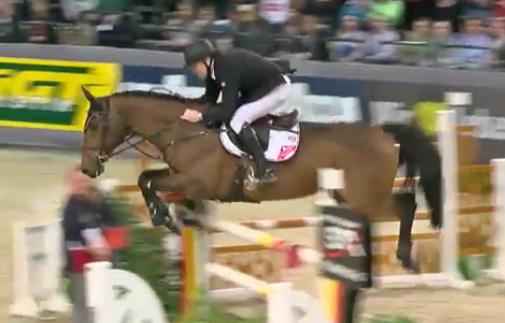 Robert Vos and Carat (SWB).
Source http://reitturniere-live.de
SWB Valentino approved by Oldenburg
Thursday, 15 February 2018 00:00
The Swedish stallion Valentino (SWB born 2014 by Diamantino VDL out of diploma mare Vitra by Careful-Corland, breeder/owner Tina Petersson-Lind) is now approved by Oldenburg. Valentino got total 8.24 at the 50-days test in Neustadt Dosse, Germany october 4-november 22 2017.
Dame Vitra competed 1.35 international 2017 with Sandra Carlsson. Grand dame Tarusa 27661 is dame of international show jumper Fibonacci (Meredith Michaels-Beerbaum, Lillie Keenan) and approved stallion Crusader Ice 1357.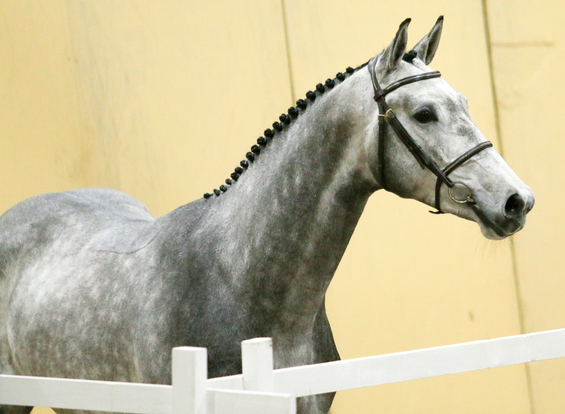 Valentino (SWB).
Photo Kim C Lundin WitNet.
Source https://www.tidningenridsport.se
SWB Channon 1082 has got A-premium
Tuesday, 13 February 2018 00:00
The Swedish Warmblood stallion Channon 1082 (SWB born 2001 by Rubignon out of Elite mare Chanti 24638 by Mazarin-Good Future, breeder Stuteri Lindevik) has got A-premium for his offsprings. Channon 1082 has won Intermediarie I. His great grand dame Chanel 9979 (by Chagall) was placed in S-level dressage in Germany.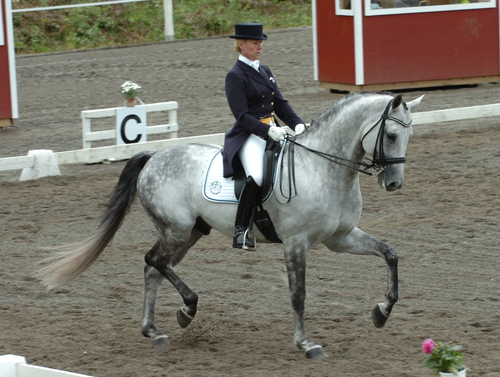 Sofia Möller and Channon 1082 (SWB).
Photo rbfoto.
Source http://swb.org
Sunday, 11 February 2018 00:00
CDI*** Sopot, Poland february 9-11
Clara Espinosa (SWE) and Gordon (SWB born 2003 by Guinness out of Ibi Gardenia (62) by Angard-Midt-West Ibi-Light, breeder Louise Nathorst and Lars Andersson) won Grand Prix Freestyle with 73.625% and placed 3d in Grand Prix with 67.652%.
Per Duvefelt (SWE) and Edvin (SWB born 1999 by Tip-Top out of Eliza 24717 by Amiral-Figaro, breeder Margareta Larsson) placed 6th in Grand Prix with 66.022% and 5th in Grand Prix Special with 65,149%.
Per Duvefelt (SWE) and Garnier (SWB born 2001 by Don Schufro out of Stina 20244 by Stanford-Ganesco, breeder Inger and Sune Bloom) placed 2d in Grand Prix Freestyle with 68.895% and 8th in Grand Prix with 64.870%.
Source http://dressage.pl and https://zawodykonne.com
SWB placed in Thermal - 3d in World Cup
Sunday, 11 February 2018 00:00
CSI***-W Thermal, CA, USA
Mandy Porter (USA) and Milano (SWB born 2005 by Orlando out of Marostica by Pomme Royal-Oula Owl xx, breeder Sussie Blomqvist) placed 3d in 1.60, World Cup and 3d in 1.45.
SWB won in Wellington - 2d in World Cup
Friday, 09 February 2018 00:00
CDI*****-W Adequan Global Dressage Festival (five), Wellington, Florida, USA february 8-11
Tinne Vilhelmson Silfvén (SWE) and Paridon Magi (SWB born 2003 by Don Primero out of Napoli (55) 19311 by Napoleon-Monaco, breeder Niclas Magnusson) placed 2d in Grand Prix with 73.500% and 2d in Grand Prix Fresstyle with 78.50%.
Naima Moreira Laliberté (CAN) and I do Kiss (SWB born 2006 by French Kiss out of Idonna (35) 27549 by Donnerfly-Urbino, breeder P&A Development AB) won Grand Prix (U25) with 62.641%.
Alexandra Reid (CAN) and Jewel´s Adelante (SWB born 2000 by Don Schufro out of Tangent 16667 by Phaeton x-Immer, breeder Hans-Åke Månsson) won Intermediarie II with 71.471%.
Source http://www.foxvillage.com
SWB won World Cup in Bordeaux
Sunday, 04 February 2018 00:00
CAI-W Bordeaux, France february 3-4

Boyd Exell (AUS) with Demi (SWB born 1998 by D-Day out of Flami (50) 16725 by Napoleon-Flamingo, breeder Bollerups Lantbruksinstitut), Bajnok, Clinton Star and Conversano Poker won both the Opening class and the World Cup!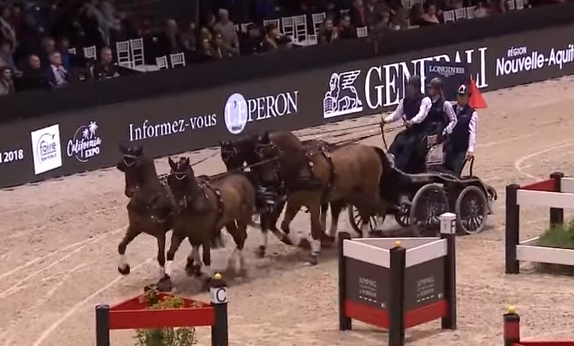 « StartPrev12345678

9

10NextEnd »
Page 9 of 189