CDI***** Al Shaqab, Doha, Qatar march 8-9
Minna Telde (SWE) and Isac (SWB born 2005 by Hip Hop out of Abigail (F2) 25229 by Master-Ciceron, breeder Per-Christer Bengtsson) won Grand Prix with 71.543% and placed 4d in Grand Prix Freestyle with 74.100%.
Natalie Oldfors (SWE) and Mickey M (SWB born 2006 by Metall out of Bonette by Bonaparte-Vagabond, breeder Medorid AB) placed 12th in Grand Prix with 68.478% and 11th in Grand Prix Freestyle with 70.350%.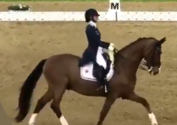 Minna Telde and Isac (SWB).
Source https://online.equipe.com