Details
CSI**** Salzburg, Austria december 5-8
Katharina Rhomberg (AUT) and Careless (SWB born 2010 by Careful out of Comtess by Pomme Royal-Cortez, breeder Eva Andersson) placed 8th in 1.60, Grand Prix of Salzburg and 10th in 1.50.
Roberto Cristofoletti (ITA) and Got To Give CC (SWB born 2011 by Orlando out of Alliance by Chin Chin-Jus de Pomme, breeder D. Carlberg & Son Intress.AB o CC Stud) won 1.30.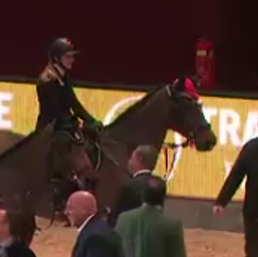 Katharina Rhomberg and Careless (SWB).
Source http://results.hippodata.de
Details
World Equestrian Center Winter Classic, Willmington , OH, USA december 4-8
Kevin McCarthy (IRL) and Catch a Star HHS (SWB born 2010 by VDL Sheraton out of Tolinda 29590 by Amulet-Jasper, breeder Johanna and Christian Friman) won 1.40, $25.000 Grand Prix.
Source http://www.horseshowing.com
Details
CSI** Obglabbeek, Belgium december 5-8
Peder Fredricson (SWE) and H&M Crusader Ice 1357 (SWB born 2011 by Cabachon out of Tarusa 27661 by Corland-Nimmerdor, breeder Thina Stigsson, ISG AB) placed 20th in 1.45.
Peter Moloney (IRL) and Steyburn (SWB born 2008 by Careful out of Bush Mills by Bold Indian xx-Ahorn, breeder Rolf Pettersson) placed 8th in 1.40 and 8th in 1.35.
Sven Joseph Hadley (IRL) and Topspin (SWB born 2007 by Etrusco out of Top Beauty xx by Richard of York xx-Blue Alert xx, breeder Lena and Robert Litzén) won 1.30 and placed 6th in 1.35.
Erika Lickhammer-Van Helmond (SWE) and Cachgon E (SWB born 2011 by Cabachon out of Lagonda (36) 28606 by Leuthen I-Maraton, breeder Erika Lickhammer) placed 22d in 1.35.
Stefanie Holmén (SWE) and K&T Top Notch (SWB born 2012 by Chin Top out of Sensation S by Navarone-Indoctro, breeder Krister Svedberg and Tobias Larsson) placed 14th in 1.35 for 7-year olds.
Stefanie Holmén (SWE) and Sienna SN (SWB born 2011 by Bravour out of Samsara SN (F2) 29939 by Canto-Cortez, breeder Birgitta Jonasson) placed 18th in 1.30.
Source https://online.equipe.com
Details
CSI***** Paris, France december 5-8
Paris Sellon (USA) and Cassandra (SWB born 2008 by Caressini L out of Siden (42) by Cardento-Favorit, breeder Horsemark AB) placed 10th in 1.55.
Patrice Delaveau (FRA) and Click N'Chic HDC (SWB born 2010 by Click and Cash out of Cajamba by Cagliostro-Alcatraz, breeder Jenny Karlsson) placed 10th 1.45.
Details
The world's best Four-in-Hand driver Boyd Exell (AUS) with his favorite horse Demi (SWB born 1998 by D-Day out of Flami (50) 16725 by Napoleon-Flamingo, breeder Bollerups Lantbruksinstitut).
Some corrections; Demi is a Swedish Warmblood just like her dame, father of dame, grand dame, father of grand dame and so on but her father is an Oldenburg. And Demi is only 21-year old.