Details
CCI****-S/CCI***-L/CCI***-S/CCI**-L/CCI**-S Le Pouget, France november 13-17

Anna Freskgård (SWE) and Techno (SWB born 2009 by Hip Hop out of Tatti 19774 by Swift-Jarramas, breeder Lena Vikman) placed 4d in CCI****-S.
William Nilsson Fryer (SWE) and Brolötens Victoria P (SWB born 2012 by Zuidenwind out of Pretty Woman BR by Don Primero-Briar, breeder Brolötens stuteri AB) placed 5th in CCI**-L.
Jarno Verwimp (BEL) and Vigo´s Flip de Muze Z placed 2d in CCI**-L. Vigo´s Flip de Muze Z is a mare out of Swedish Warmblood mare Butterfly Flip (74).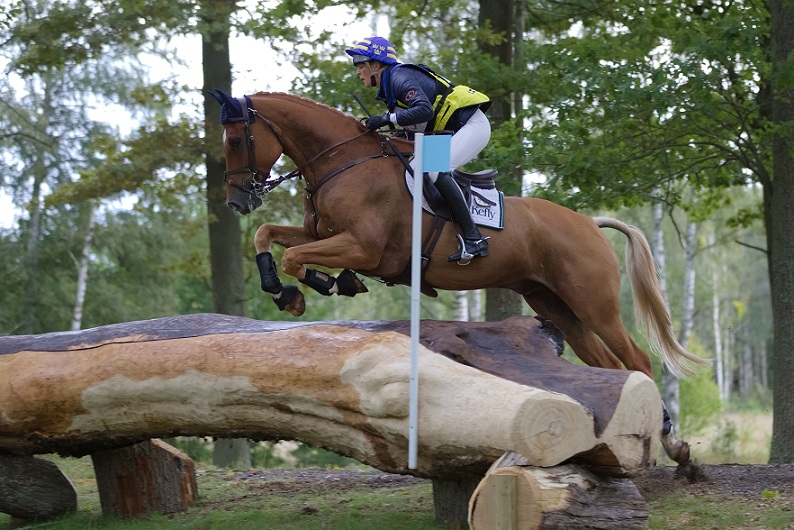 Anna Freskgård with Techno (SWB) in Segersjö 2018.
Photo Jöns Leandersson.
Details
CAI-W Stuttgart German Masters, Germany november 15-16

Boyd Exell (AUS) with Demi (SWB born 1998 by D-Day out of Flami (50) 16725 by Napoleon-Flamingo, breeder Bollerups Lantbruksinstitut), Bajnok, Clifton Star and Oriast won both the Opening competition and World Cup!
Demi and Bajnok have been in the team all three World Cup wins this season.
Details
The Elite stallion Briar 899 (SWB born 1991 by Magini out of Charis (F2) 21695 by Krocket-Illum, breeder/owner Hans-Yngve Göransson). Briar 899 was known in the competition ring as Björsells Briar, under steady rider Jan Brink.
Briar was approved in 1995 as 4-year old and got 109778=41 for his conformation (type, Head/neck/body, legs, walk, trot), 688/8 for gaits under saddle (scale 1-10) and 99/89 for jumping.
Briar placed 3d in the Breeder´s Trophy final as 5-year old and 2d as 6-year old. He placed 2d in the 7-year olds final 1998 and also placed 5th in Intermediarie I i Aachen.
In spite of his youth Briar competed at the 2000 Olympic Games in Sydney, as the youngest horse there.
Briar made a big impression on the international scene after finishing second behind Rusty and Ulla Salzgeber at the 2003 European Championships in Hickstead, England. He placed seventh in the 2004 Olympic Games. In 2005 he won double bronze individually and in the team at the European Championship, and wrote history within the equestrian sport with his superior victory in the Grosse Preis, Aachen.
In 2006 Briar became historical by winning his fifth gold medal in the Swedish Championship, which no horse has ever before achieved. In 2007 he won his sixth Swedish Championship gold medal and a bronze medal at the European Championship in Turin. Briar and Jan took World Cup victory in Stockholm 2002, 2003, 2005, 2006, 2007 and in Neumünster 2006 and in Gothenburg 2007. Briar won his last competition in Sweden at Gothenburg Horse Show 2009.
Briar has been amongst the top placed dressage stallions of the world since 2001. He was the second highest placed dressage stallion after Krack C in the 2003 World Breeding Ranking for Sport Horses, managed by WBFSH (World Breeding Federation for Sport Horses). 2004 WBFSH announced that Briar 899 was the highest placed breeding sire for the year.
Briar is approved for breeding in Sweden, Hannover, Oldenburg and KWPN. He has twelve approved sons - Berlioz 978, Biggles 1015 and Brisbane 1081 in Sweden, Isos 9067, Bella Caroli and Agastrofos in USA, Anton, Bellini K, Briars Junior and Meges in Oldenburg, Byalee Briar (ex Florentijn) and DS Burlington Bertie in Australia.
Briar has several offsprings competing on the international sence - in dressage; April 4cible (Kristian von Krusenstierna), Baltzar (Elisabeth Hjelm), B Aretos (Lina Andersson), Bellini K (Antonio Diaz Porras), Biggles 1015 (Kristian von Krusenstierna/Lina Dolk), Briars Boy (Monika von Wedemeyer), Briars Junior (Juliane Jerich), Brighton (Maria von Essen), Briman (Emilie Brolin), Brisbane 1081 (Mattias Jansson/Emma Hindle/Katherine Berning), Bryan (Anna Lawson), Bukowski (Anders Dahl/Dong Seon Kim), Carlette (Claudia Witte), Charleston (Kristian von Krusenstierna), Ciwi (Charlotte Esping), Crossy (Marie Munthers), Dorazio (Kira Kanerva), DS Burlington Bertie (Aiyana Levin), Mac Brian Poppelhag (Amy Stovold) and in showjumping; Agamemnon (Alec Lawler), Brunetti (Polina Prigozhina), Swingkid (Hector Ortiz), in eventing; Black Mamba (Ricarda Berkenheide), Cape Breeze JM (Christian Malmgren), High 5 du Langwater (Constantin van Rijckevorsel), Valcor (Asha Laseroms) and in four-in-hand Candyman (Axel Olin).
Also in S-level dressage; Agastrofos (Kevin Kohmann/Endel Ots), Barland I.M. (Michelle Gibson), Cantar (Helene Wannert), Certainty (Thamar Zweistra) and Corleone (Kerstin Ahlgren) and in vaulting: Chêvere.
Briar 899 (SWB) as 5-year old with Jan Brink (SWE).


Briar 5 år from Studio Korsholm AB on Vimeo.
Bukowski (SWB by Briar-Junius xx) with Anders Dahl (DEN).


Mac Brian Poppelhag (SWB by Briar-Brabant) with Amy Stovold (GBR).


Bellini K (Old by Briar-Akzent II) with Antonio Diaz Porras (ESP).


Details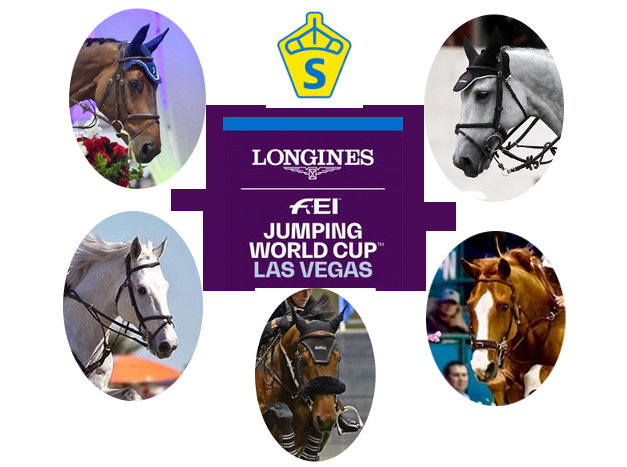 Tonight will five Swedish Warmbloods - Escada V. S. (SWB born 2007 by Escudo I out of Flora by For Feeling-Werther, breeder Per-Inge Birgersson), Samson II (SWB born 2004 by Cardento out of Batista 27400 by Bellini-Utrillo, breeder Lars-Torgny Lasson), Wallstreet RC (SWB born 2007 by Cardento out of R.Z. Calettina Retto by Koriander-Caletto II, breeder Elin Hällgren), Westbrook (SWB born 2008 by Jaguar Mail out of Carrera 28800 by Cardento-Bonaparte, breeder Jonas Jönsson) and Zaloubet (SWB born 2007 by Maloubet de Pleville out of Zarastra (23) by Robin Z-Hubertus, breeder Ann-Sophie Persson and Hans Orest) jump in the World Cup at at CSI***-W Las Vegas, NV, USA!
Live from Las Vegas https://tv.fei.org
Details
Prof em. Ingvar Fredricson has been concerned with longevity in horses for many, many years. In 2002 he started an EU-supported project in which horses at a very young age were activated to travel distances in a rural environment, having to deal with natural obstacles. Now a new project is launched in Brösarp, in the south of Sweden. A group of 25 yearlings and two-year-old showjumpers have some 70 hectares of hilly natural grounds at their disposal...
Read more https://www.horsetelex.com/news/view/92140