CSI*** Winter Equestrian Festival week 6 Wellington, Florida, USA february 11-16
Bliss Heers (USA) and Cayani SN (SWB born 2008 by Cayado out of Happy Lou 27802 by Voltaire-Irco Marco, breeder Birgitta Jonasson / Stora Nääs Stuteri) placed 11th in $37.000 Equinimity Challenge Cup.
Selcuk Koksalan (TUR) and Fine (SWB born 2008 by Corlensky G out of Cicilia (58) 18506 by Ciceron-Jasper, breeder Kastanjegården AB) placed 10th in 1.30, $2.000 Jumper.
Fine owns since january by Leyla Stables LLC (99%) and rider Selcuk Koksalan (1%). Fine competed international with Daniel Meech (NZL) in 2016-2019 (they competed at the World Championship in Tryon 2018), Oleksandr Onyshchenko (UKR) in 2019 and Laurens Houben (BEL) in 2019.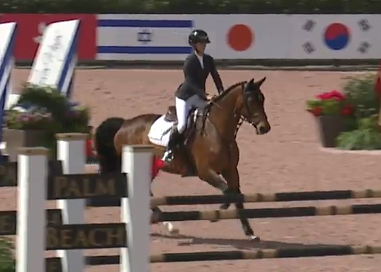 Bliss Heers and Cayani SN (SWB).
Source https://pbiec.coth.com