On April 17th the A-premium stallion Bolero 897 (SWB born 1991 by Bernstein out of Fairytale 16736 by Chagall-Piaff, breeder Per Runesson family) passed away.
Bolero got 6-8-10/8 for his gaits as 4-year old and 89889=42 points for his conformation as 6-year old.
Bolero placed 6th in the Bredder´s Trophy final for 5-year olds and 4d in the Breeder´s Trophy final for 6-year olds. He was placed in S-level as 7-year old.
Bolero covered 126 mares in Sweden 1995-2000 and left Helios (international Grand Prix with Mette Ono Njöten and Catharina Lorentzen Lund), Isovlas Tango (international four-in-hand with Chardon Ljsbrand), Hertiginnan II (international single driving with Anneli Blomberg), Ruter Dam (S-level dressage) and Bomerang (S-level dressage). Bolero is grandfather to approved stallion Luxus CML 1246.

Bolero was exported to USA in 2001.
Bolero´s owner writes "I had the honor and privilege of a partnership with Bolero for nearly twenty years. It was full of adventure, learning and love. He was my guiding light, north star and inspiration. Our souls are intertwined forever."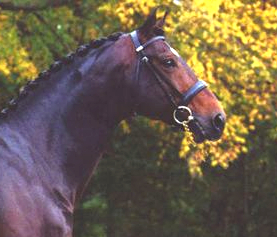 Bolero 897 (SWB).