Gina Capellmann-Lutkemeier´s Amando (SWB born 1990 by Amiral out of Erbella (34) 16733 by Indus-Varolio, breeder Susanne Hall) has passed away.
Amando and his breeder Susanne Hall placed 3d in the Young Dressage Horse Championship in Malmö 1995.
The Capellman family bought Amando as an 8-year old in 1998 and first he was ridden by Nadine Capellmann but in July 1998 Gina made her show debut on him.
Amando was Gina's most successful dressage horse in the 2000s. They placed 9th in the World Cup Final 2002 and 11th in the World Cup Final 2003.
In 2007 Fabienne Lutkemeier took over Amando from her mom as a schoolmaster. They placed 6th in the 2008 Piaff Forderpreis Finals in Stuttgart.
Amando was retired from sport in 2009 and since then enjoyed a happy retirement in the field.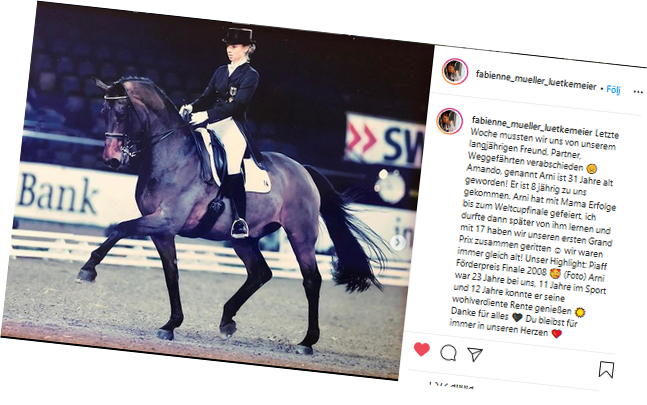 Amando, 26-year old, in 2016:


Source https://www.horses.nl and https://www.instagram.com