Emelie Brolin´s Contact (SWB born 1991 by Tabac out of Colette II (11) 19375 by Furioso III-Brabant, breeder Jeppe Börjesson) has passed away.
Emelie Brolin and Contact placed 9th individual and 6th with the Swedish team at the European Junior Riders Championships 2002 and placed 7th with the Swedish team at the European Young Riders Championships 2003. They won both individual and with the Swedish team at the Nordic Junior Rider Championship 2002. Brolin and Contact won the Swedish Junior Rider Championship 2002 and the Swedish Young Rider Championship 2003.

Emelie writes: "He was the first horse I rode piaff and passage on. But most importantly, he has been my best friend for twenty years and I am so grateful for everything we have done together".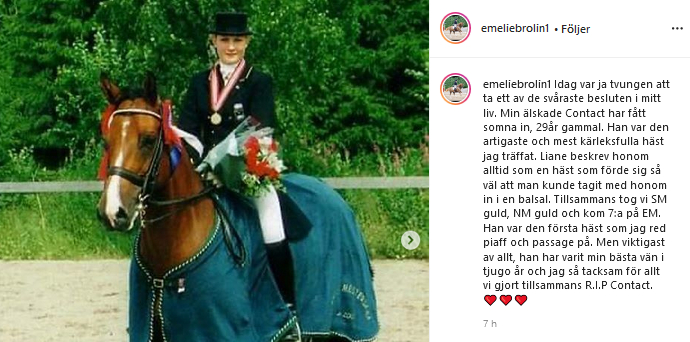 Contact´s dam Colette II was also dam of Cathrine Dufour´s Cadillac (SWB born 1998 by Oldtimer xx).
Source https://www.instagram.com