Details
CDN Helsingborg, Sweden 16-18 november
Mattias Jansson (SWE) and Brisbane 1081 (SWB born 2001 by Briar out of Terra Nova (F2) 23042 by Amiral-Idealist, breeder Anders Larsson family) won both Olympic Grand Prix Special and Grand Prix Kür.
Kristian von Krusenstierna (SWE) and Biggles 1015 (SWB born 1998 by Briar out of Susanna 15097 by Krevad-Falstaff, breeder Ingrid Lundberg Persson family) placed 2d in Grand Prix and placed 3d in Olympic Grand Prix Special. Anna Svanberg (SWE) and Hermes 1086 (SWB born 2001 by Rambo out of Nicea (16) 21730 by Urbino-Indus, breeder Ann and Torsten Pehrsson) placed 4d in Grand Prix.
Emelie Brolin (SWE) and Briman (SWB born 2001 by Briar out of Madeira 21786 by Martini-Utrillo, breeder Lennart Mattsson) won Intermediarie I B. Britt-Marie H-Ivarsson (SWE) and Bomerang (SWB born 2000 by Bolero out of Lanette 19141 by Anart-Urbino, breeder Britt-Marie H-Ivarsson) placed 2d in Intermediarie I.
Source http://online.equipe.com
Details
CDN Ankumer, Germany 16-18 november
Patrik Kittel (SWE) and Tellwell (SWB born 2000 by Tip Top out of Tarantella (F2) 21411 by Bayard-Lambert, breeder Susanne Johnsson) won Grand Prix Kür with 79.40% and placed 3d in the short Grand Prix.
Patrik Kittel writes on his website: "Showing extravagant half passes in trot and canter, exceptionally good natural paces, an expressive canter tour, and solid piaffe and passage, Tellwell loved his time in the arena and showed just what he is capable of - a lot!".
Source http://www.equi-score.de
Details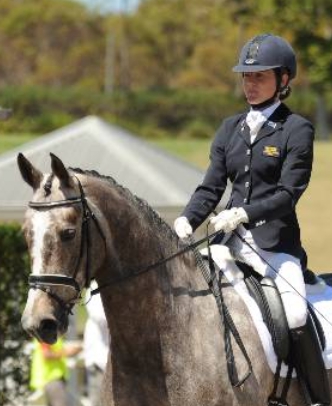 The Australian Dressage Championships, Sydney 25-28 october
Cassia Montgomery and Revelwood Marmalade (picture) by the Swedish stallion Magritte 780 won the Young Horse Qualifier for 5-year old horses. See movie on the Grand Prix Stallion Magritte 780 >>
Ann Maree Lourey and Byalee Briar (ex Florentijn SWB born 2004 by Briar out of Florine (36) 26149 by Bernstein-Nepal, breeder Sofia Sandgren) participated in the novice-classes.
Jessica Willard and Briarson by Byalee Briar placed 5th in the Young Horse Qualifier for 4-year old horses. Ann Maree Lourey and Byalee Breathless by Byalee Briar placed 10th.
Details
The SWANA inspection tour 22-28 october
The three-year-old chestnut stallion Brioso (SWB by Briar out of Friendly Furioso by For the Future (by Furioso II-Inschalla x)-Inschalla x-Furioso II, breeder and owner Little Bit Farm) will be licensed for one year. Brioso´s mother is twice line bred in the first two generations.
Source http://www.swanaoffice.org
Details
CSI*** Odense, Denmark 18-21 october
Douglas Lindelöw (SWE) and Balahé (SWB born 2002 by Baloubet du Rouet out of Nina Ricci (F4) 15172 by Flamingo-Dragon, breeder Hans Stodell) won 1.35. Charlotte von Rönne (DEN) and Jackson Hole KJH (SWB born 2004 by Quite Easy out of Fontina (36) 26795 by Robin Z-Wartung, breeder Ittur AB) placed 12th in 1.35.
CSI* Odense, Denmark 18-21 october
Caroline Thorvaldsen (NOR) and Imp@la VT (SWB born 2002 by Irco Mena out of E-M@il 26072 by Escudo I-Ritual, breeder Maria and Sven-Erik Larsson) placed 3d in 1.40, Grand Prix and 4d in 1.35-1.40. Mathias Nörheden Johansen (DEN) and Lucky Star (SWB born 2000 by Cardento out of Lady Luck by Early-Le Mexico, breeder HEAT AB) placed 6th in 1.35 and 6th in 1.30. Rikke Haastrup (DEN) and What a Feeling (SWB born 2005 by For Feeling out of Joelien 26414 by Derrick-Notaris, breeder Hanna Svensson) placed 12th in 1.35 and 5th in 1.30.
Source http://www.equi-score.de