Sport & Breeding News
Sunday, 13 May 2012 00:00
CCI/CIC Jersey Fresh Three Day Event, Allentown, New Jersey, USA  may 10–13
Colombo (SWB born 1994 by Eighty Eight Keys xx out of Colette by Concarneau-Le Capricore xx, breeder Tord Bonde) and Selena O'Hanlon (CAN) placed 3d in CCI***. "Our dressage was great," said O'Hanlon who has been working with Canadian Olympic bronze medalist Gina Smith when she has been at home between competitions. "We have been turning up the volume for each test we have done recently. I'm sorry that I lost a second place finish by adding two jumping time penalties, but he was the only horse to not have any jumping faults on both cross country and show jumping, so I'm very pleased."
Piece of Hope (SWB born 1999 by Feliciano out of Ungulata xx by Royal Conductor-Major Portion, breeder Ylva Melin) and Connor Husain (USA) placed 3d in CIC**.
Source http://equinecanada.ca
Colombo from start to finish:
High Yummy is sold to Canada!
Wednesday, 09 May 2012 00:00
Alexander Zetterman has sold his High Yummy (SWB born 2002 by New Balance out of High Society 20280 by Sandro-Matador, breeder Maud Ohlsson) to Frank Stronach in Canada. High Yummy will be ridden by Nicole Walker.
Source http://www.hastmagazinet.com
Brisbane back in training at Swedish Mattias Jansson
Monday, 07 May 2012 00:00
Last year British Emma Hindle showed her new Olympic hope the now 11-year-old former stallion Brisbane 1081 (SWB by Briar out of Terra Nova (F2) 23042 by Amiral-Idealist, breeder Anders Larsson family). Unfortunately, we did only see the combination a few times.
The collaboration between Brisbane and Hindle has not been top successful, and therefore Swedish Mattias Jansson has been visited at Hindles barn to train Brisbane. Brisbane was educated and trained by Jansson in Sweden before he was sold to Switzerland. Brisbane was approved in Sweden with 9´s for gaites and 10´s by the testriders.
Brisbane is now, however, moved back to Sweden by Mattias Jansson, who this past weekend was placed 2d in Grand Prix at CDN Dagstorporten.
Source http://www.horse2rider.eu
Sunday, 06 May 2012 06:29
CDI Radzionkow, Poland may 4-6
Kristian von Krusenstierna (SWE) and Biggles 1015 (SWB born 1988 by Briar out of Susanna 15097 by Krevad-Falstaff, breeder Ingrid Lundberg-Persson) placed 2d in Olympic Grand Prix Special and 8th in Grand Prix.
Source http://www.ham.com.pl
Sunday, 06 May 2012 00:00
CSI***** The Global Champions Tour Valencia, Spain may 4-6
Rico Revel (SWB born 1999 by Quite Easy out of Lady Like B 23682 by Zeppelin-Modesto, breeder Gunnel and Kjell Frölin) and Eduardo Alvarez Aznar (Spain) placed 5th in 1.50. MCB Maya (SWB born 2002 by Cardento out of Roxanne 25311 by Turban Rose-Emalj, breeder Lave Olsson) and Michael Whitaker (Great Britain) placed 2d in 1.45. Nice Stephanie (SWB born 2004 by Cardento out of Ralméa (36) 22164 by Ralmé Z-Abbé, breeder Karin Engström and Stefan Israelsson) and Pénélope Leprevost (France) placed 9th in 1.45.
Sunday, 29 April 2012 00:00
CCI**/CIC**/CCI* Radolfzell, Germany april 26-29
Sara Algotsson-Ostholt (SWE) and Wega (SWB born 2001 by Irco Mena out of La Fair 25359 by Labrador-Prince Fair xx, breeder Margareta Algotsson) placed 2d in CIC**.
Source http://www.vogg.ch
Wednesday, 25 April 2012 00:00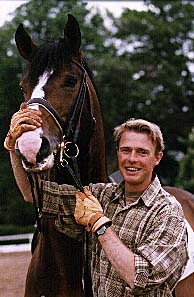 The Swedish stallion Martini 744 (born 1983 by Marino out of Nina (14) 9500 by Utrillo–Gordon, breeder Barbro and Göran Ahlqvist) died at the animals hospital in Helsingborg on Sunday night. Unfortunately it was not possible to safe him due to circulation problems added to his high age. In 7 months Martini would have turned 30!
Martini 744 won the stallion performance test in 1987 and had a number of victories and placements in international Grand Prix together with Jan Brink and among others they won a bronze medal at the European Championship in 1997 in German Verden.
"Martini was my first horse to win a medal on and he has meant a great deal to me. We have been together for almost 28 years now, he will be burried on a small hill underneath a beautiful oak tree here at Tullstorp and we shall make a memorial stone for him", Jan Brink says.
Source http://tullstorp.nu
Martini 744 is father of approved stallions Fontana 848, Maximilian 851, Vermouth 858, Absolut 9039 and Chibi 9047. Morell was placed in international S-level dressage and Savador Dali was placed S-level dressage. His last offspring was born 1998.
« StartPrev171172173174175176

177

178179180NextEnd »
Page 177 of 192