Sport & Breeding News
Schockemohle invests in the Flyinge State Stud
Thursday, 22 December 2011 00:00
Paul Schockemöhle and partners are placing five stallions in Sweden; all of them approved by the Swedish warmblood society (SWB), and will make his whole stud book available to Flyinge's client base.
This means that Swedish breeders can continue to use Flyinge for covering their mares in 2012 and perhaps some of the staff will have employment during the next season.
Briar 899 Stallion of the Year 2011
Thursday, 22 December 2011 00:00
The board of directors of the Swedish Warmblood Breed Society has named Briar 899 the Stallion of the Year 2011. The proclamation was based on Briar's position on the 2011 WBFSH Dressage Sires' Ranking.
Hans Yngve Goransson's Briar (SWB born 1991 by Magini out of Charis (F2) 21695 by Krocket) ranked 11th on the 2011 WBFSH sire ranking and proved his worth as a dressage breeding stallion. All offspring at the base of this ranking are Swedish warmblood registered.
The offspring assisting in his 11th place on the ranking include Grand Prix horses Bukowski (Anders Dahl, now sold to Korea), MacBrian (Amy Stovold), Biggles (Kristian von Krusenstierna), Brisbane (Emma Hindle), April 4Cible (Kristian von Krusenstierna) and Charleston (Patricia Sarasin).
Bukowski won GP with new rider
Sunday, 18 December 2011 00:00
Bukowski (SWB born 1999 by Briar out of Sunjist xx 23884 by Junius-Green God, breeder Erik Magnusson) and his new rider Dong Seon Kim won Grand Prix Special and placed 2d in Grand Prix at White Fences Polar Express, dec 17-18.
Thursday, 15 December 2011 00:00
The stallion performance test 1992 
Here are the movies from the Swedish stallion Vermouth 858s performance test in 1992. The stallion performance test 1992 included a veterinary inspection, judging of conformation, free jumping and gaits under own rider. The stallions were also judged on their canter and jumping ability while completing a cross country course.
Vermouth 858 is born 1988 by Martini 744 out of Walova (5) 15499 by Kaliber out of White Nose (5) 10425 by Cosmos xx - Oberon. He got 98788=40 for conformation, 888-9 for his gaits and 89/88 for his free jumping.
Read more about Vermouth 858 here >>
Tip Top 962 Retired to Stand at Stud
Tuesday, 13 December 2011 21:23
American WEG Team bronze medallist Leslie Morse has retired her 17-year old Swedish warmblood stallion Tip-Top 962 (born 1994 by Master out of Hortensia (65) 16654 by Chagall-Figaro, breeder Poul Erik Lang) from competition to stand him at stud. Read Eurodressages article here >>
Tip-Top 962 has got 148 offsprings in Sweden. He is father of the approved stallion Trenton 1048 (SWB born 1999 out of Lobelia (41) 20611 by Gassendi) and of the approved stallion Tip Top´s Sterling (SWB born 2005 out of Welltana by Welt Hit II). Trenton 1048 got 989 for his gaits as 4-year old and he was exported to Lütkemeier in Germany 2006. Tip Top´s Sterling got 98898=42 points for conformation and 989-9 under rider as 3-year old. Tip-Top 962 is father of Tellwell (SWB born 2000 out of Tarantella (F2) 21411 by Bayard) who won the Swedish Young Horse Championships (Breeder's Trophy) both as 5-year old and 6-year old. He won S-level with Patrik Kittel and was sold to Laura Bechtholsheimer 2009.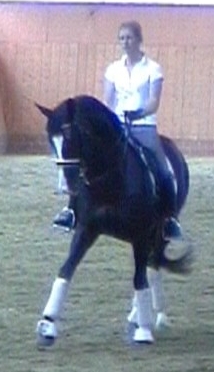 Trenton 1048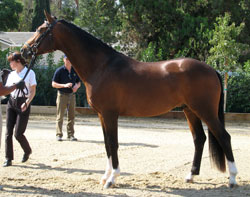 Tip Top´Sterling
SWB Tellwell won GP in Addington
Thursday, 08 December 2011 00:00
CDN Addington, Great Britain dec 8
Tellwell (SWB born 2000 by Tip Top out of Tarantella (F2) 21411 by Bayard-Lambert, breeder Susanne Johnsson) and Laura Bechtolsheimer (GBR) won Grand Prix.
SWB WON World Cup in Stockholm
Sunday, 27 November 2011 00:00
CDI Stockholm International Horse Show, Sweden nov 24-27
Toy Story (ex Condor, SWB born 2000 by Come Back II out of Cessna (46) by Concorde-Kaliber, breeder Marie and Olle Bjernick) and Patrik Kittel won the World Cup in Stockholm!

Source http://online.equipe.com
« StartPrev181182183184185186187

188

189190NextEnd »
Page 188 of 198