Details
Shizeido GJ 1378 (SWB born 2013 by Sezuan out of Zalsa (F2) by Danzas-Bellini, breeder Gustaf Johansson) was accepted for Oldenburg breeding at the Oldenburg Stallion Approval in Vechta, Germany.
Details
The Elite stallion Hip Hop 1045 (SWB born 1999 by Feliciano out of Mazurka (32) 24021 by Electro-Hartung, breeder Hans-Göran and Gunhild Persson) has passed away.
Hip Hop 1045 competed in international show jumping with Maria Gretzer, Erika Lickhammer and Nicole Persson. He was 3d in the Sires of the World 2010.
Hip Hop 1045 left 914 offsprings born in Sweden;
Chickflick K (Antonia Pettersson Häggström), Doge Dogelito (Alice Tapper), Flecu (Daniel Zetterman/Viggo Björklund), Gurra Hop (Satu Liukkonen/Sebastian Numminen), Hansson WL (Peder Fredricson), Here I am (Alexa Larkin), Hilma (David S. Pegg), Hip Boy (Kieran Carey), Hip Girl (Lauren Tisbo), Hip Living (Emilie Conter/Santiago Lambre), Hip Star (Dennis Lynch/Theodore Boris/Elliot Bouju), Hurricane (Erynn Ballard), Kasphara DH (Lucy Deslauriers) and Quick Step VR (Hedda Wallin) in international show jumping,
Kvadrat (Sandra Gustafsson) and Techno (Anna Freskgård) in international eventing and Isac (Minna Telde) in international dressage.
Details
Springbank II VH DVH 1262 (SWB born 2014 by Skovens Rafael out of De la Reinne VH (31) 29644 by De Niro-Rohdiamant, breeder Västra Hoby Stuteri AB) was approved for Hanoverian breeding at the Hanoverian Stallion Approval in Verden, Germany.
Twenty-four stallions were presented, of which fifteen were approved. Seven of the approved colts are dressage bred.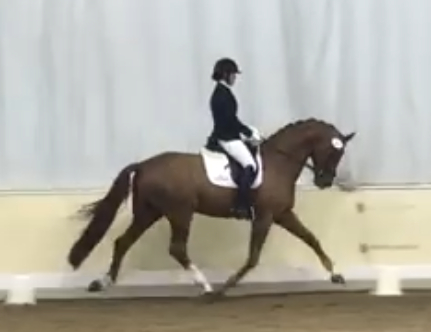 Springbank II VH DVH 1262 (SWB).
Source https://www.hannoveraner.com
Details
CSI*****-W Casas Novas, A Coruña, Spain december 7-9
Jacob Hellström (SWE) and Caliban H (SWB born 2008 by Cathageno out of Ophelia 28725 by Elmshorn-Raise a Dancer xx, breeder Katarina Lindholm) placed 6th in 1.45.