Details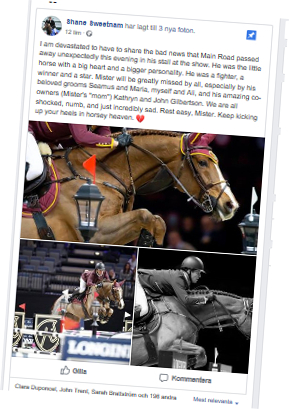 Shane Sweetnam´s Main Road (SWB born 2008 by Heartbeat out of Main Mirco (1) 25232 by Irco Marco-Crown Point xx, breeder Marina Björkman Team AMY HB) has unexpectedly passed away in his stall at a competiton show in Wellington. Sweetnam writes; "He was the little horse with a big heart and a bigger personality. He was a fighter, a winner and a star".
Main Road was sold as foal by his breeder to Grevlundagården i Vitaby AB. He got a diploma as jumping horse as 3-year old and placed 5th in the Breeder´s Trophy final as 6-year old (with Stephanie Holmen). Main Road was sold to Ireland 2014.
Main Road was 3d best SWB in Horsetelex´s earning ranking 2018 (with 216 590 €). Main Road was 4d best SWB in WBFSH´s ranking 2018 and 6th 2017.
Main Roads breeder Marina Björkman will show Main Roads close relative Main Cornet at the Swedish Stallion Test this year. Main Cornet´s half brother Main Defender was approved for breeding in 2018.
Sweetnam owns Main Balouca and Main Keenan, both close relatives to Main Road.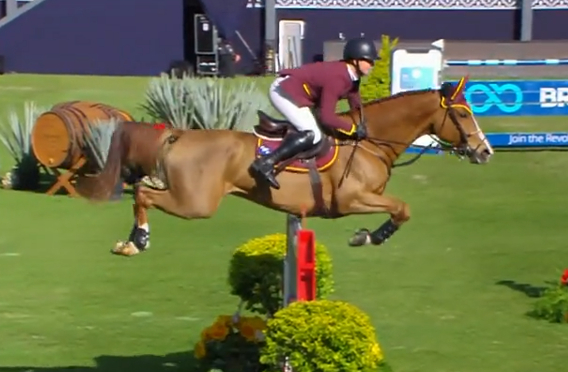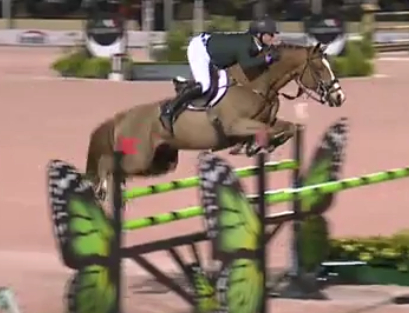 Details
CDN Hedensted, Denmark february 8-10
Linda Pfingstl Aasted (DEN) and Orlando Bloom (SWB born 2007 by Haydn out of Mrs M by Cortus-Robin Z, breeder Claes Brudefors) won Intermediairé I with 69.561%.
Source https://online.equipe.com
Details
CSI****-W Leon, Mexico february 6-10
Santiago Attias Bulhosen (MEX) and Chiquitia (SWB born 2010 by Chacco Blue out of Quincy D by Quiletto-Cupido, breeder Susanne Feretti) placed 6th in 1.40.
Andres Diaz Munoz (MEX) and Isabel (alias J-Lids Ingeborg, SWB born 2011 by Indoctro out of Jantarenpaal by Concorde-Zevenster, breeder Jarmelid förvaltning) placed 5th in 1.35 and 2d in 1.30.
Details
CSI*** Winter Masters Peelbergen, Kronenberg, Netherlands february 7-10
Karin Martinsen (SWE) and Stenhaga Tulip Tatoo (SWB born 2009 by Caressini L out of Tulipan by No Limit-Faldo, breeder Isabell Hellman-Svanberg) placed 18th in 1.50.
Source https://online.equipe.com
Details
CDI*** Sopot Dressage Winter Tour, Poland february 8-10
Minna Telde (SWE) and Isac (SWB born 2005 by Hip Hop out of Abigail (F2) 25229 by Master-Ciceron, breeder Per-Christer Bengtsson) won both Grand Prix with 71.913% and Grand Prix Special with 69.894%.
Clara Espinosa (SWE) and Gordon (SWB born 2003 by Guinness out of Ibi Gardenia (62) by Angard-Midt-West Ibi-Light, breeder Louise Nathorst) placed 2d in Grand Prix Freestyle with 68.155% and 4d in Grand Prix with 64.500%.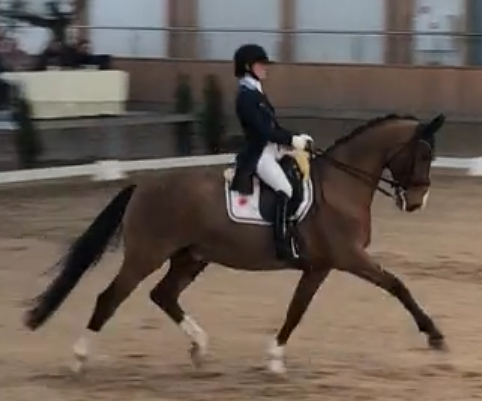 Minna Telde and Isac (SWB).
Lo Dahlquist Mörkenstam (SWE) and Welton Five (SWB born 2001 by Weltman out of Tema 24988 by Maraton-Tasano, breeder Annika Andersson) won both Young Riders Freestyle with 73.550% and Young Riders Team Test with 67.375% and placed 2d in Young Riders Individual Test with 68.676%.
Charlotte Esping (SWE) and K-Duchess (SWB born 2007 by Metall out of Kame 25384 by Nocturne-Sombrero, breeder Helen Carlsson) placed 3d in Intermediaire I Freestyle to Music with 66.575%, 5th in Intermediarie I with 64.324% and 5th in Prix St Georges with 64.824%.
Minna Telde and Isac (SWB) in GP:


Lo Dahlquist Mörkenstam and Welton Five(SWB) in YR Freestyle:


Source https://zawodykonne.com