Piaff 399 - a World famous dressage horse
The chestnut stallion Piaff 399 was born 1958 and bred by Carl-Axel Andreasson in Tomelilla.
He was by Gaspari 340 out of Clodette (5) 5159 by Ruthven 220-Kondor 136. Piaff stood at Flyinge Stud 1960-65 and covered 76 mares. He got a State Premium 1965 for his offsprings. Piaff is father of many good mares: Miss Piaff 7194 was exported to USA and placed in S-level dressage and Ärla-Miss 7407 placed S-level in showjumping. Piaffa 7243 was grandmother to the stallion Pierre 826, exported to USA. Frida 7197 is mother of Fraichall in S-level dressage and grandmother of the stallion Bolero 897, exported to USA.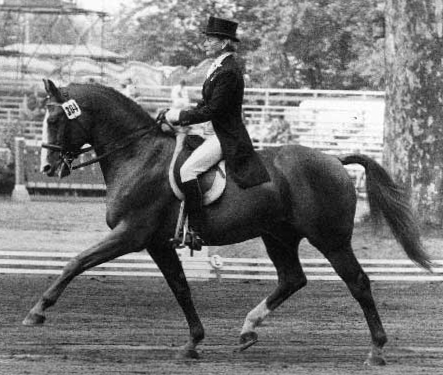 In 1965 Piaff 399 was exported to Liselott Linsenhoff in West Germany.
At the Olympic Games in Mexico 1968, Linsenhoff made history as the first woman to win a gold medal in an equestrian event when she placed first as a member of the German dressage team with Piaff. The next year Linsenhoff and Piaff won a gold medal at the European Championships. At the 1970 World Championship in Aachen, Germany Piaff and Linsenhoff won both a team silver medal and a individual silver medal. They won a gold medal at the European Championships in dressage in 1971.
At the 1972 Munich Olympics, Linsenhoff, added to her place in history by winning the individual event, the first woman to do so, with Piaff. They also gained a silver medal in the team event. At World Championship in Copenhagen, Denmark 1974 they won a team gold medal and a silver medal individual.
When Piaff retired from his active dressage career in 1976, he had won a total of twelve medals, more than any of his predecessors.
He spent a peaceful retirement on Linsenhoff's farm in Germany until the summer of 1986 when he put to sleep at the age of 28.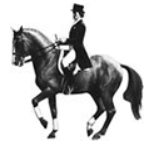 Herbert Kuckluck says in Harry Boldt's book,"Das Dressurpferd", published in 1978, that Piaff was "a stallion with the ideal requirements for a dressage horse".
To this day the Liselott Schindling Foundation supports primarily dressage newcomers and bestows the annual Piaff Sponsorship Award.
Piaff will always be known in the history as the horse that carried the first female to Olympic victory.
Movie on Piaff and Linsenhoff in Wien 1972:
Sources: Joja Lewenhaupts stallionbooks and several competition result lists. Movie from You Tube.