Details
CDI-W Amsterdam, Netherlands january 25-28
Patrik Kittel (SWE) and Touchdown 1338 (SWB born 2012 by Quaterback out of La Mour 25810 by Sack-Judex xx, breeder Verbena AB) placed 8th in Grand Prix with 74.065% and 5th in Grand Prix Freestyle with 82.645%!
Evelina Söderström (SWE) and Cilantro (SWB born 2007 by Johnson out of Cinnamon 28607 by Hertug-Weltmeyer, breeder Ylva Joyce) placed 4d in Grand Prix for U25 with 69.658% and 7th in Grand Prix Freestyle for U25 with 67.767%.
Details
CSI*****-W Leipzig, Germany january 19-22

Wilma Hellström (SWE) and Cicci BJN (SWB born 2011 by Ci Ci Senjor Ask out of Tittut BJN (F2) by Tornesch-Irco Marco, breeder JM Sohlman HB) placed 6th in 1.60, World Cup!
Linda Heed (SWE) and Heartcore L (SWB born 2012 by Heartbeat out of Diamant K by Cortez-Darnels, breeder Lögshögs Gård AB) placed 5th in 1.45 and 14th in 1.45.
Antonia Häsler (GER) and Dynamite N (SWB born 2010 by Nintender out of Larissa 29211 by Landfriese I-Gepard, breeder Helen Helmersson) placed 3d, 7th and 11th in 1.40.
Linda Heed (SWE) and Simona VS (SWB born 2016 by Stakkato out of Escape VS by Escudo I-For Feeling, breeder Viksbergs Säteri AB) placed 7th and 8th in 1.35 and 9th in 1.40.
Details
CDN Munster, Germany january 11-15
Malin Wahlkamp-Nilsson (SWE) and Bergsjöholms Valbonne 1376 (SWB born 2013 by Zack out of Via Veneto (F2) by Epson-Favorit, breeder Marita Strauch, Stall Bergsjöholm) won Grand Prix with 73.980% and placed 6th in Grand Prix Special with 72.079%.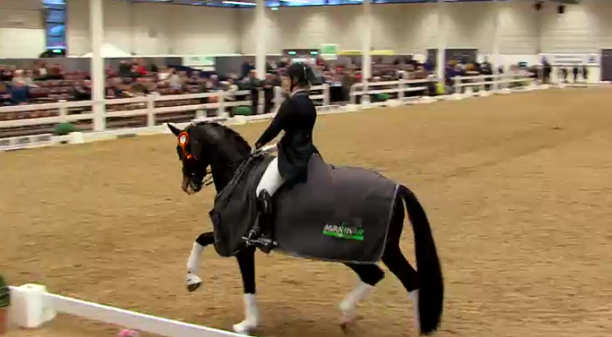 Source https://results.hippodata.de
Details
CSI*****-W St Jacobshalle, Basel, Switzerland january 12-15
Pénélope Leprevost (FRA) and Texas (SWB born 2011 by Tornesch out of Pangea by Robin Z-Nurprimus, breeder Göran Linell) won 1.50!
Daniel Deusser (GER) and Loui LN (SWB born 2014 by Kannan out of Bijoux by Cartani-Athletico, breeder Louise Nyberg) placed 6th in 1.45.
Details
CDN Thermal, CA, USA january 6-8
Laura De Cesari (USA) and Rossi (SWB born 2012 by Romanov out of Cadenza (1) 29997 by Vivaldi-Campari M, breeder Carol Reid) placed 3d in Grand Prix with 64.891% and 3d in Grand Prix with 65.652%.
Michelle Reilly (USA) and Lazlo (SWB born 2011 by Connaisseur out of Charlie´s Angel by Warsteiner-Tabac, breeder Anna Sjöbom) won Intermediate I with 62.647% and placed 2d in Intermediate I with 63.529%.