Patrik Kittel (SWE) has become part owner of Touchdown 1338 (SWB born 2012 by Quaterback out of La Mour 25810 by Sack-Judex xx, breeder Verbena AB) together with the breeder Verbena AB.
Touchdown 1338 got a diploma for gaits as 3-year old and he was the highest rated 3-5-year-old stallion in all 70-days test in Germany 2015 with 8.78. He received no less than seven 9's, for temperament, willingness to work, walk, canter and riding ability.
Touchdown was approved for SWB and Oldenburg 2016 as 4-year old and got 98888=41p for his conformation (type, Head/neck/body, legs, walk, trot).
Touchdown 1338 placed 4d in the Swedish Breeder´s Trophy as 4-year old and got 8.5-9.0 by testrider Charlotte Dujardin.
Philipp Ruwe (SWE) and Touchdown 1338 placed 2d in the Folksam Open final in Falsterbo for 5-year olds with 74.198%.
Ruwe and Touchdown 1338 got 8.2 for trot, 9.0 for walk, 8.5 for canter, 8.5 for submission, 8.8 for perspective, total 8.60 and placed 5th in the small final for 5-year olds at the World Breeding Dressage Championships for Young Horses.
Christoph Koschel (GER) and Touchdown 1338 has won class M with over 70% in Germany 2019.
Touchdown 1338 covered 57 mares 2016-2019 and has been gelded (available through frozen).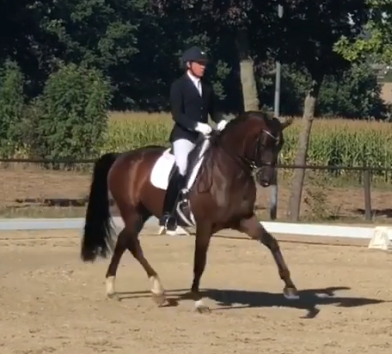 Christoph Koschel and Touchdown 1338 (SWB).
Touchdown 1338 at 70-days test in Celle.
Touchdown 1338 at 70-days test in Celle.
Source https://www.facebook.com/Verbena-Dressage-Skeppstrand