CSN Wellington, FL, USA january 6-10
Shane Sweetnam (IRL) and Ideal (SWB born 2012 by Cardento out of Paskitt (F1) 28719 by Cortez-Mix, breeder PVRT Equestrian AB) placed 11th in 1.55 and 2d in 1.45.
Ashley Vogel (USA) and Lucy in the Sky (SWB born 2009 by Tornesch out of Leiah by Quantum-Calvadur, breeder Regårdh Showjumping AB) placed 7th in 1.40.
Jennifer Waxman (USA) and Heart On Fire (SWB born 2011 by Heartbeat out of Crazy For Me by Escudo I-Crazy Classic, breeder Frida Ekström) placed 17th in 1.40.
Darragh Kerins (USA) and White Light Moment (SWB born 2011 by Bravour out of Naomi (67) by Camaro M-Napoleon, breeder Anna Granqvist) placed 4d in 1.35 and 2d in 1.30.
Carlie Fairty (CAN) and Chamonix de Ley (SWB born 2013 by Zirocco Blue VDL out of Umay de Olympica by Oramé-Jus de Pomme, breeder BFAB) placed 2d and 3d in 1.30.
Kelly Arani (USA) and FLB Lux Inclusive (SWB born 2012 by Tornech out of Allinclusive by Acadius-Grannus, breeder Pia Levin) placed 9th in 1.35 and 6th in 1.30.
Audrey Schulze (USA) and Mr Cash (SWB born 2012 by Click and Cash out of Pukarla 30150 by Holland-Joost, breeder Carola Lilja and Maria Karlsson) placed 10th in 1.30.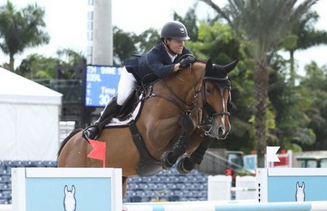 Shane Sweetnam and Ideal (SWB).