Details
CSI Spruce Meadows, june 6-10
Ligist (SWB born 2000 by Levantos II out of Chamina (5) 22132 by Robin Z-Hertigen, breeder Lars Erik Fyrberg) and Reed Kessler placed 10th in 1.45.
Source www.sprucemeadows.com
Details
CSI Spruce Meadows, june 14-17
Spirit Magic (SWB born 2000 by Acacio out of Magic Feeling 24866 by Ahorn-Anart, breeder Sisse Sejrbo) and Manuel Alvarez (MEX) placed 12th in 1.50.
Source www.sprucemeadows.com
Details
Belgian chef d'equipe Laurence van Doorslaer and the Belgian Equestrian Federation (KBRSF) have announce the teams which has been selected to represent Belgium at the 2012 European Junior and Young Riders Championships in Berne, Switzerland, on 11 - 15 July 2012. Among the nominated combinations is Saidja Brison and her gelding Molière (SWB born 2000 by De Niro out of Visa (71) 25085 by Amiral-Indus, breeder Eva Furenbäck). They will compet in the Belgian Young Riders Team.
Source www.eurodressage.com
Details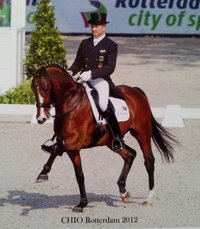 CDI*** Rotterdam, The Netherlands june 20-24

Bukowski (SWB born 1999 by Briar out of Sunjist xx 23884 by Junius-Green God, breeder Erik Magnusson) and Hubertus Schmidt (GER) placed 3d in Grand Prix Special and 4d in Grand Prix.
Isac (SWB born 2005 by Hip Hop out of Abigail (F2) 25229 by Master-Ciceron, breeder Per-Christer Bengtsson) and Minna Telde (SWE) won Intermediarie I and placed 4d in Prix St Georges.
Source http://www.chio.nl
Details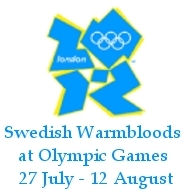 Following Luhmühlen, the German team updated their Olympic Eventing team outlook. The Germans have organized their selections into three primary groups.
In group 3, reserves, are Beeke Kaack with Judy (SWB born 2000 by Cortus out of Minelli 24904 by Magini-Testarossa, breeder Margareta Algotsson), Kai-Steffen Meier with Karascada and Peter Thomsen with Cayenne.
Source http://eventingnation.com