Wendesday march 3
All day
– Gaits 4- and 5-year old stallions and performance dressage stallions
– Gaits I 3-year old stallions
On Wednesday evening, SWB and the breeding evaluation committee published lists of how the stallions' results turned out at half time in the form of recommendations to proceed to phase II. This applies to 4- and 5-year olds and performance stallions. For the 3-year old stallions there is no phase II.
A proportion of stallions are immediately recommended, while others are called "quarter calls" - a reconciliation of what AVN wants to see more of from the stallion or a checkpoint if the stallion owner wants to continue given certain parameters.
Recommended to phase II with the possibility of achieving the requirements for the Awarded level:
4-year old dressage stallions
Benchmark (Old born 2017 by Boralino out of Di Anjolie by De Niro-Harvard)
Glasgow (SWB born 2017 by Grand Galaxy Win out of Barcelona (76) 29513 by Figaro R-Bernstein, breeder Gränsbo Stuteri)
4-year old jumping stallions
Diavant Blue (OS born 2017 by Diaron out of Vivanetta Blue by Vivant vd Heffinck-Chacco Blue)
Rihanna's Diamond K (SWB born 2017 by Bravour out of Rihanna K by Lux Z-Everest, breeder Karin Larsson)
Rimaro vd Looise Heide (BWP born 2017 by Diarado out of Lavita vd Looise Heide by Kashmir vt Schuttershof-Flamenco de Semilly)
Rollcat (SWB born 2017 by Copycat out of Caro´ll (58) 23879 by Troll-Jasper, breeder Nils-Erik Söderström)
Tinder (SWB born 2017 by Nintender out of Vegas by Orlando-Glennridge, breeder Lotta Pettersson)
Zezar Hästak (SWB born 2017 by Casanova Hästak out of Utopia Hästak by Cabachon-Cortus, Hästak AB)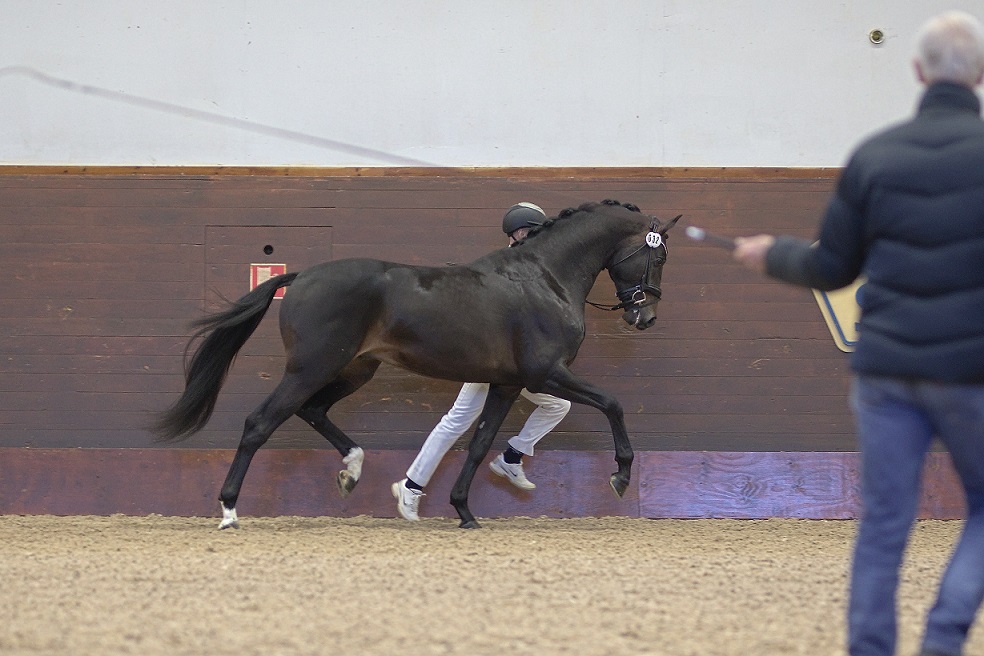 Glasgow (SWB).
Photo Jöns Leandersson.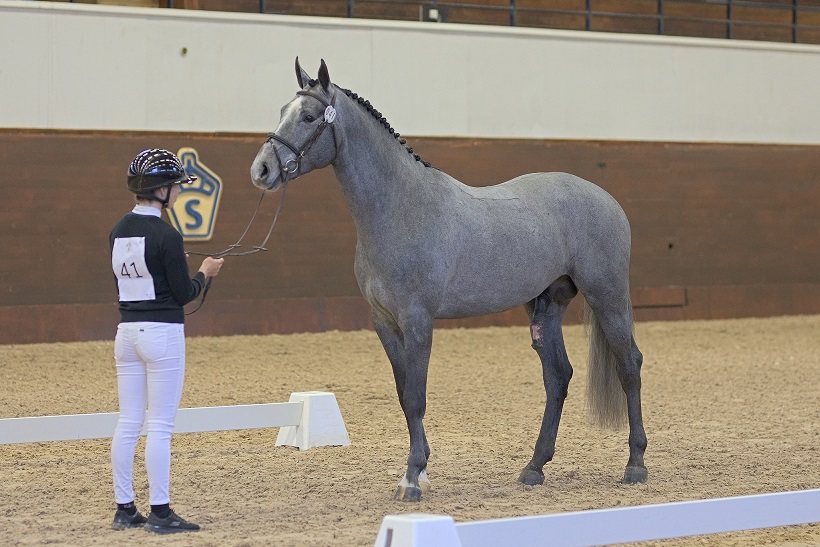 Rihanna's Diamond K (SWB).
Photo Jöns Leandersson.
Called to quarter-call with the opportunity to achieve the Awarded level:
4-year old dressage stallions
Faithful (Hann born 2017 by For Romance I out of Daytona by De Niro-Mondriaan)
4-year old jumping stallions
Candide (SWB born 2017 by Kannan out of Jeanne d'Arc by Jaguar Mail-Wolfgang, breeder Louise Frumerie and Karl-Henrik Heimdahl)
Conqueror Charlie (SWB born 2017 by Comfortuna VDL out of Chairlia by Chairman La Silla-Contendro I, breeder Marianne Sörensen and Rebecca Laine)
Montevideo VDL (KWPN born 2017 by Cornet Obolensky out of Ezella by Indoctro-Lux Z)
5-year old jumping stallions
Chacootino PS (OS born 2016 by Chacoon Blue out of Conthina by Conthargos-Armitage)
York Hästak (SWB born 2016 by Dirco Hästak out of Thelma Hästak by Heartbeat-Comes vd Heffinck, breeder Hästak AB)
Called for a quarter-call:
Performance stallions (with result from competiton)
Convalj Q Tap (SWB born 2015 by Contant Q out of Orchis (40) 26599 by Opius-Utrillo, breeder Anna-Greta Nordstedt)
Can proceed to phase II with the opportunity to primarily meet the requirements for Accepted level:
4-year old dressage stallions
Epiphany EMS (SWB born 2017 by St Schufro out of Akiruchette by Akribori-Amiral, breeder Erik Strömqvist)
Maderik EMS (SWB born 2017 by Sankt Erik II out of Madeleine EMS (78) by Floricello-De Noir, breeder Marina Svedin)
Mafioso BD (KWPN born 2017 by Desperado out of Dabola by Wynton-Ferro)
Moonlight (KWPN born 2017 by Expression out of Gravin by Uphill-Prestige VDL)
4-year old jumping stallions
Hotlix (SWB born 2017 by Heartbeat out of Toffifee (40) by Tornesch-Elmshorn, breeder Maria Eriksson Lindén/Ale Ridsport)
5-year old dressage stallions
Dandelon WCB (SWB born 2016 by Dragon Welt out of Lili by Longchamp-Caprimond, breeder Christel Oscarsson)
5-year old jumping stallions
Coventry Moon (SWB born 2016 by Coventry out of Sally Moon 29581 by Quite Easy-Lucky Light, breeder CJ Equestrian AB)
Filkes Red Fury (SWB born 2016 by Red Hot Chilli out of Pie Molise by Feliciano-Nebbiolo xx, breeder Maria Jurestam)
Highteq (SWB born 2016 by Hip Hop out of High Five by Etrusco-Robin Z, breeder Anna-Lean Skaar and Kent Widegren)
Performance stallions (with result from competiton)
Q:s A Kind of Magic (SWB born 2014 by Durrant out of Quantera by Quaterman-Phantomic xx, breeder Emma Nahlbom)
Not recommended to continue the test. Stallions who are considered to have difficulty achieving the requirements for Accepted level:
4-year old dressage stallions
Vitality Hit (Hann born 2017 by Vitalis out of Santanella by Sandro Hit-Donnerhall)
4-year old jumping stallions
Fabulous Wildheart (SWB born 2017 by Heartbeat out of Dilight (13) 29369 by Lucky Light-Allegretto, breeder Linda and Staffan Larsell)
Gustav EB (SWB born 2017 by Kannatol out of Amadea (73) by Lucky Point HE-Acacio, breeder Erling Brag)
Mitchicoeur (SWB born 2017 by Coupe de Coeur out of Chin Ett by Chin Top-Contender, breeder Ellenor Hjalmarsson Ekman and Thomas Ekman)
5-year old jumping stallions
Chini con Omnes F (SWB born 2016 by Kashmir van Schuttershof out of Diamant v/t Dauwhof by Chin Chin-Wertschatz, breeder Eva Gudmundsson)
Source https://swb.org Cataloge https://indd.adobe.com/view/ca799c44-11b6-4a5d-a17d-5b92f6408104
Start lists https://online.equipe.com
Livestream (march 1-6) https://www.equisport.tv
Related articles
The Swedish Stallion Performance Test 2021 >>
The Swedish Stallion Performance Test day 1 >>
The Swedish Stallion Performance Test day 2 >>