Details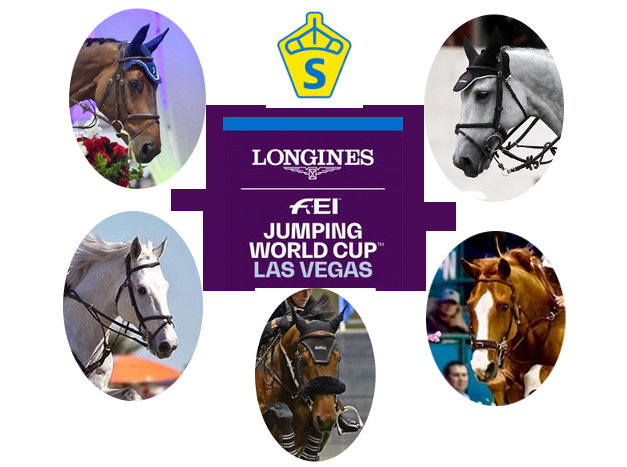 Tonight will five Swedish Warmbloods - Escada V. S. (SWB born 2007 by Escudo I out of Flora by For Feeling-Werther, breeder Per-Inge Birgersson), Samson II (SWB born 2004 by Cardento out of Batista 27400 by Bellini-Utrillo, breeder Lars-Torgny Lasson), Wallstreet RC (SWB born 2007 by Cardento out of R.Z. Calettina Retto by Koriander-Caletto II, breeder Elin Hällgren), Westbrook (SWB born 2008 by Jaguar Mail out of Carrera 28800 by Cardento-Bonaparte, breeder Jonas Jönsson) and Zaloubet (SWB born 2007 by Maloubet de Pleville out of Zarastra (23) by Robin Z-Hubertus, breeder Ann-Sophie Persson and Hans Orest) jump in the World Cup at at CSI***-W Las Vegas, NV, USA!
Live from Las Vegas https://tv.fei.org
Details
Prof em. Ingvar Fredricson has been concerned with longevity in horses for many, many years. In 2002 he started an EU-supported project in which horses at a very young age were activated to travel distances in a rural environment, having to deal with natural obstacles. Now a new project is launched in Brösarp, in the south of Sweden. A group of 25 yearlings and two-year-old showjumpers have some 70 hectares of hilly natural grounds at their disposal...
Read more https://www.horsetelex.com/news/view/92140
Details
CSI***-W Las Vegas, NV, USA november 12-17
Chenoa Mc Elvain (USA) and Wallstreet RC (SWB born 2007 by Cardento out of R.Z. Calettina Retto by Koriander-Caletto II, breeder Elin Hällgren) placed 17th in 1.50, $36,000 Welcome Jumper Speed Classic.
Rich Fellers (USA) and Steelbi (SWB born 2008 by Empire out of Starfire by Stanford-Lansiär, breeder Lisbeth Claesson) won 1.45, Markel Insurance Jumper Series Finals.
Rich Fellers and Steelbi (SWB):

Details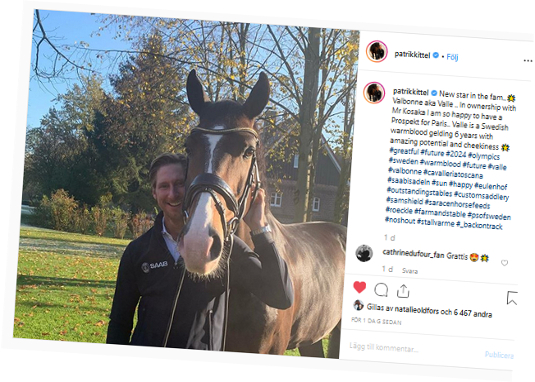 Marita Strauch has sold Bergsjöholms Valbonne 1376 (SWB born 2013 by Zack out of Via Veneto (F2) by Epson-Favorit, breeder Marita Strauch, Stall Bergsjöholm) to Swedish Patrik Kittel and Japanese Masahiro Kosaka.
Bergsjöholms Valbonne was approved in february 2018 as 5-year old and got 8.58.57.07.07.0=38p for his conformation (type, Head/neck/body, legs, walk, trot) and 8.0-7.5-8.5 for gaits under saddle (scale 1-10). The test riders in dressage gave him 9 and 8 points. His dame Via Veneto has placings in Prix St Georges and has left 6 offsprings (2011-19).
Emelie Brolin and Bergsjöholms Valbonne placed 8th in the Scandinavian Open final for 5-year olds, 5th in the Swedish Breeder´s Trophy final for 5-year olds and represented the Swedish Warmblood Studbook at the World Championship for Young Dressage Horses in 2018.
Bergsjöholms Valbonne 1376 covered 10 mares 2018 and has now been gelded.
Maybe Valbonne will be a prospekt for the Olympic Games in Paris 2024?

Details
Naima Moreira Laliberté (CAN) and I do Kiss (SWB born 2006 by French Kiss out of Idonna (35) 27549 by Donnerfly-Urbino, breeder P&A Development AB) has been awarded the 2019 Orion Cup after consistently achieving incredible scores at the Under 25 (U25) level.
Open to Canadian dressage riders aged 16 to 25, the award is presented to the rider with the highest average of three scores from the U25 Grand Prix level.
Read more on http://www.eurodressage.com