Details
CSI***-W Columbus-Johnstown, OH, USA october 4-7

Kelli Cruciotti (USA) and Chamonix H (SWB born 2001 by Carnute out of Wotin 25052 by Caletto II-Capitano, breeder Anita and Bengt Johansson) placed 13th in 1.50.
Details
CDI-W Tallinn, Estonia october 5-6
Natalie Oldfors (SWE) and Mickey M (SWB born 2006 by Metall out of Bonette by Bonaparte-Vagabond, breeder Medorid AB) won both Grand Prix Freestyle with 74.585% and Grand Prix with 70.348%.
Gunilla Byström (SWE) and Vectra (SWB born 2005 by Silvano out of Vanda (F2) 29143 by Amiral-Vagabond, breeder Carolin Ljuncrantz and Håkan Kindblom) placed 4d in Grand Prix with 67.326%.
Source https://online.equipe.com
Details
Swedish Warmblood stallion Liberace for U (born 2015 by Dante Weltino out of Under Action xx 26893 by Underworld xx-Imperial Fling xx, breeder Ugglarps gård AB) finished a 14-day test in Schlieckau, Germany with very good results. Final score 8.20 in dressage and placed 4d of 24 stallions overall. He scored a 9 for temperament and character, 9 for willingness to work, walk 8.0, trot 8.0 and 8.5 for canter, 8.0 for rideability, 5.0 for jumping, overall impression 7.35 and 8.5 by the test riders.
Details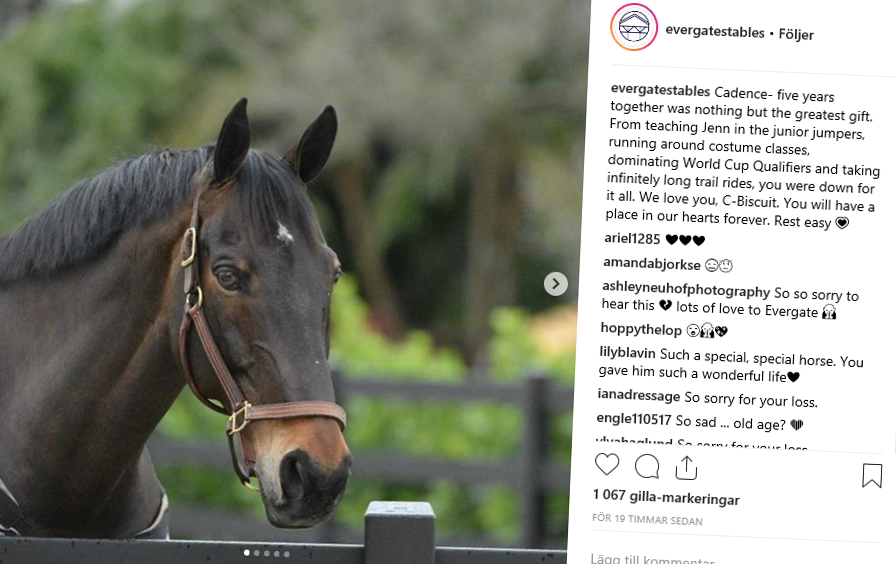 Jennifer Gates Cadence (SWB born 2001 by Cardento out of Main Mirco (1) 25232 by Irco Marco-Crown Point xx, breeder Marina Björkman/Team AMY HB) has passed away.
Cadence was placed in Swedish Breeder´s Trophy as 4-, 5- and 6-year old. He was placed in the final for 5-, 6- and 7-year olds in Falsterbo and competed in the World Jumping Championships for 6-year olds.
Cadence was exported to USA 2009 and competed with success by Michelle Spadone, Megan Edrick, McLain Ward and Jennifer Gates.
Source evergatestables´s instagram
Details
CDI*** Saab International Grand Prix Dressage, Flyinge, Sweden september 27-30
Caroline Dacourt (SWE) and Sankt Erik II 1265 (SWB by Johnson out of Weuchette 29701 by Weltmeyer-Amiral, breeder Forty Invest AB) placed 4d in Prix St Georges with 68.922%.
Lina Dolk (SWE) and Biggles 1015 (SWB born 1998 by Briar out of Susanna 15097 by Krevad-Falstaff, breeder Ingrid Lundberg Persson family) placed 2d in Grand Prix (U25) with 70.615%.
Cecilia Bergåkra Berglund (SWE) and Duschesse (SWB born 2002 by Solos Carex out of C´est si Bonne 19127 by Chagall-Immer, breeder Kjell Andersson) placed 4d in Grand Prix (U25) with 66.872%.
Sofie Relander (SWE) and Barcelona MW (SWB born 2008 by Figaro R out of Balvenie MW by Riverside-Bergamon, breeder Maria Winberg and Lars Öhrn) placed 5th in Grand Prix (U25) with 65.590%.
Evelina Söderström (SWE) and Weihenstephaner (SWB born 1998 by Warsteiner out of Tita 21172 by Dwight-Capricco, breeder Tomas Blomgren) won the Young Riders Team Test with 72.647%.
Elin Mattsson (SWE) and Cognac (SWB born 2007 by Rosevelt out of Kontesse (51) 24836 by Koncerz xx-Caracas, breeder Johanna Nihlgård) placed 3d in the Young Riders Team Test with 69.265%.
Kaja Wilhelmsen Rokstad (NOR) and Danisco for U (SWB born 2007 by Bocelli out of Wosila by Rousseau-Jazz, breeder Ugglarps gård AB) placed 4d in the Young Riders Team Test with 68.627%.
Lovisa Wessblad (SWE) and Adobe MB (SWB born 2004 by Don Primero out of Adora MB (41) 25062 by Looping-Alibi, breeder Annika and Anders Bäckgren) placed 6th in the Young Riders Team Test with 66.275%.
Source https://online.equipe.com
You are here:  

Sport & Breeding News