Details
CSI**** Al Shira'aa International Horse Show, Abu Dhabi, United Arab Emirates january 9-12
Anna Kellnerova (CZE) and Silverstone G (SWB born 2008 by Diamant de Semilly out of Valenzia 25055 by Vancouver-Maraton, breeder Pia Svensson) placed 3d in 1.50, MOTHER OF THE NATION.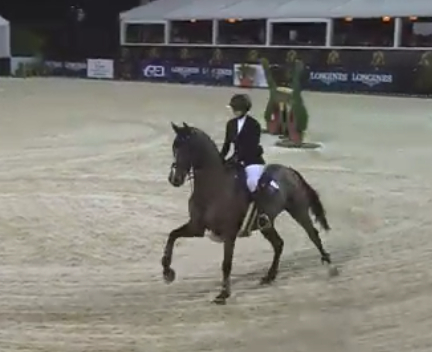 Anna Kellnerova and Silverstone G (SWB).
Details
Team trainer Nathalie zu Sayn-Wittgenstein and team captain Helle Trolle Krasnik will hold a training camp on january 10-11 2019 at Blue Hors Stud in Randbol. Five riders are now A-squad listed and four of them shall bring two horses to the training camp. One of them is Anna Kasprzak with Quarton (SWB born 2009 by Quaterback out of Delight (F2) 26813 by Don Schufro-Mowgli, breeder Per-Arne Persson) and Rock Star.
Source http://www.eurodressage.com
Details
Henri Chammartin (SUI) with Wolfdietrich (SWB born 1951 by Daladier xx out of Kasanette by Talisman-Ebonit, breeder Carl Herslow) placed 8th individual at the Olympic Games in Rome 1960.
Gustav Fischer (SUI) with Wald (SWB born 1953 by Drabant out of Indiris 3175 by Indigo-Flaneur, breeder Inga Sonesson) won a indvidual Silver medal and Henri St Cyr (SWE) with L´Etoile (SWB born 1951 by Lucky Boy xx out of Tussilago by Stabil-Tavast xx, breeder Carl Strömfelt) placed 4d individual. Yngve Viebke (SWE) with Gaspari 340 (SWB born 1949 by Parad out of Russi (5) 3359 by Haffner-Gaumen, breeder Sten Hummerhielm) placed 9th individual.
At the Olympic Games in Mexico City 1968 Henri Chammartin (SUI) and Wolfdietrich won a team Bronze medal.
Liselott Lisenhoff (FRG) with Piaff 399 (SWB born 1958 by Gaspari out of Clodette (5) 5159 by Ruthven-Kondor, breeder Carl-Axel Andreasson) won a team Silver medal and Gustav Fischer (SUI) with Wald won a team Bronze medal.
Details
CAI-W Mechelen, Belgium december 29-30

Boyd Exell (AUS) with Demi (SWB born 1998 by D-Day out of Flami (50) 16725 by Napoleon-Flamingo, breeder Bollerups Lantbruksinstitut), Bajnok, Barny and Rocket won both the Opening competition for World Cup and the World Cup!
Details
2018 ESP New Years at Palm Beach International Equestrian Center, Wellington, Florida december 28-30
Ian Millar (CAN) and Calvin Klein (SWB born 2004 by Cardento out of Donna Karan (F4) by Feliciano-Flamingo, breeder Nora Wahlborg) placed 6th in the $25.000 Vita Flex® Grand Prix.
Source http://pbiec.coth.com