Details
CDN Råde and Onsøy Rideklubb, Norway march 30-31
Thea Katarina Bråten (NOR) and Pia Pia (SWB born 2009 by Highcruiser out of Paradis by Raphael-Placido, breeder Tomas Andersson) placed 3d in Intermediarie I with 68.684%.
Source https://online.equipe.com
Details
CSI**** Balvanera, Mexico march 28-31
Santiago Attias Bulhosen (MEX) and Chiquitita (SWB born 2010 by Chacco Blue out of Quincy D by Quiletto-Cupido, breeder Susanne Feretti) placed 4d in 1.40.
Details
CCI*** Luhmühlen, Germany march 30-31
Philippa Magnusson (SWE) and Cesar (SWB born 2010 by Crelido out of Coco Chanell TH (36) 29500 by San Quintero xx-Trofé, breeder Affärskompetens i Visby AB) placed 19th in CCI***.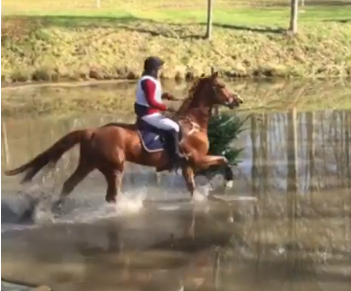 Philippa Magnusson and Cesar (SWB).
Details
CCI**** Galway Downs International Temecula, CA, USA march 29-30

James Alliston (GBR) and Pandora (SWB born 2010 by Prostor out of Camellia E by Comefast xx-Dragon, breeder Laura Boyer) placed 2d in CCI****.
Source https://horsetelexresults.com and http://galwaydowns.net
Details
CDI*** Nations Cup Global Dressage Festival (week 10) Wellington, Florida, USA march 13-17
Naima Moreira Laliberté (CAN) and I do Kiss (SWB born 2006 by French Kiss out of Idonna (35) 27549 by Donnerfly-Urbino, breeder P&A Development AB) won Intermediaire II (U25) with 71.706%, placed 2d in Grand Prix (U25) with 69.564% and 3d in Grand Prix Freestyle with 71.160%.
Team Canada with Naima Moreira Laliberté / I do Kiss (SWB), Laurence Blais Tétreault / Utah and Tanya Strasser-Shostak / Déjà vu Tyme placed 2d in the Under 25 FEI Nations Cup.
Deirdre Sullivan for Jennifer Wood Media, Inc writes: "I found him, and I thought, 'I love him.' There's something in him that touches my gut feeling and my heart,'" said Laliberte of the 13-year-old SWB stallion by French Kiss x Idonna owned by KML S.A.R.L. "For me that's the most important thing when you find a partner. "
Source https://horsetelexresults.com and https://gdf.coth.com