Details
There are many Swedish Warmblood horses at the Mediterranean Equestrian Tour in Oliva Nova;
Agnes (SWB born 2011 by Algot out of Duchess (5) 26102 by Ampere-Amiral, breeder Elin Appelgren),
Be Beautiful HJ (SWB born 2013 by Colmar out of Byzance by Robin Z-Tammer Fors xx, breeder Helsingehus AB),
Elliot (SWB born 2013 by King Louie out of Eleyi (3) by Elmshorn-Robin Z, breeder Royne Zetterman AB),
Filiokus (SWB born 2004 by Feliciano out of Yrvädret 24958 by Sunshine Prince-Jovial, breeder Maud and Hans Delling),
GDE Matrix (SWB born 2002 by Cardento out of Medusa 17845 by Maximus-Drabant, breeder Charlotta and Jan Forsman),
Heart Attack (SWB born 2011 by Heartbeat out of Silana H 29829 by Latano-Major de la Cour, breeder Cecilia Kristersson),
Here I AM (SWB born 2010 by Hip Hop out of Piccacho (18) by Cortez-Bamtung, breeder Margareta Carlsson),
High Nitro (SWB born 2009 by Empire out of High Divine 29662 by Cobra-Cortez, breeder Maud Ohlsson)
Kanhon (SWB born 2012 by Kannan out of Silana H 29829 by Latano-Major de la Cour, breeder Cecilia Kristensson),
Lucky Lisa (SWB born 2010 by Heartbeat out of Lucky Me Z by Lux Z-Cortus, breeder Nygårdens stuteri and vet.praktik HB),
Mecca (SWB born 2011 by Cabachon out of Mycke-Mera by Irco Mena-Jovial, breeder Maud and Hans Delling),
Miss Svea (SWB bon 2011 by Callahan VDL out of Miss Antalya by Carpaccio-Ahorn Z, breeder Anna Hansson and Anders Karlsson),
Q-Two TL (SWB born 2012 by Cabachon out of Q-One Greenfield Z by Quite Capitol-Carthago, breeder Tomas Wigren),
Super Micke (SWB born 2007 by Artist out of Louise Lane by Almeto Z-Domitz II, breeder John Hickey),
Triton Hästak 1330 (SWB born 2012 by Cabachon out of Harmonien by Winningmood vd Arenberg-Carpaccio, breeder Hästak AB) and
Undicci (SWB born 2004 by Camiell-Flamingo Z out of Donatella (F2) 26953 by Cardento-Quidam de Revel, breeder Flyinge AB)
Source https://online.equipe.com
Details
2019 Winter Equestrian Festival (week 1), Wellington, USA january 9-13
Kaely Tomeu (USA) and Cassandra F (SWB born 2008 by Heartbeat out of Iloma 22500 by Ahorn-Ronald, breeder Gunnel and Kjell Frölin) placed 2d in the 1.45, $8.000 Douglas Elliman Real Estate.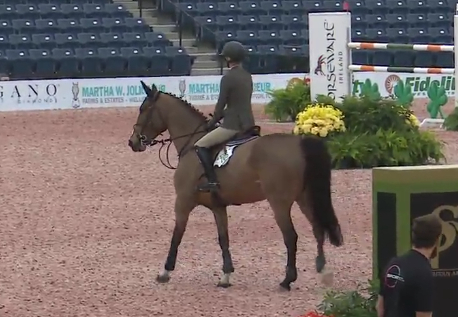 Kaely Tomeu and Cassandra F (SWB).
Francesca Bolfo (USA) and Lasirca KIL (SWB born 2008 by Lasirco out of Charis Q by Charity-Apollo, breeder Karin Göransson) placed 2d in 1.30, $1.500 Medium-Owner.
Sarah Bagworth (CAN) and Malou (SWB born 2004 by Maloubet de Pleville out of Colinda Z 27134 by Carthago-Jus de Pomme, breeder Svante Johansson AB) placed 6th in 1.30, $1.500 Medium-Owner Jumper and 16th in 1.35, $10.000 Medium-Owner Classic.
Source http://pbiec.coth.com
Details
The owner of Steve Guerdat´s Bianca (SWB born 2006 by Balou de Rouet out of Coco (34) 27114 by Cardento-Maraton, breeder Skattagård AB), Hofgut Abfüren won the title "Owner of the Year" in Switzerland 2018 and Steve Guerdat was crowned as "Rider of the Year".
Hofgut Abfüren also owns Guerdat´s Maddox (SWB born 2011 by Cohiba out of Miami (37) 29335 by Maraton-Happy Day, breeder Liselotte Tillberg).
Related SWB Bianca "Horse of the year" in Switzerland >>
Source https://www.equnews.com
Details
CDI***-W 2019 Global Dressage Festival (week 1), Wellington, Florida, USA january 10-13
Naima Moreira Laliberté (CAN) and I do Kiss (SWB born 2006 by French Kiss out of Idonna (35) 27549 by Donnerfly-Urbino, breeder P&A Development AB) placed 2d in Intermediarie I with 69.294% and 2d in Prix St Georges with 67.735%.
Source http://www.foxvillage.com
Details
CSI*****-W Basel, Switzerland january 10-13
Stephanie Holmén (SWE) and Broken Heart (SWB born 2010 by Heartbeat out of Meredith (F2) by Cortus-Irco Marco, breeder Peter Bengtsson) placed 10th in 1.40.