Details
Patrik Kittel (SWE) has become part owner of Touchdown 1338 (SWB born 2012 by Quaterback out of La Mour 25810 by Sack-Judex xx, breeder Verbena AB) together with the breeder Verbena AB.
Touchdown 1338 got a diploma for gaits as 3-year old and he was the highest rated 3-5-year-old stallion in all 70-days test in Germany 2015 with 8.78. He received no less than seven 9's, for temperament, willingness to work, walk, canter and riding ability.
Touchdown was approved for SWB and Oldenburg 2016 as 4-year old and got 98888=41p for his conformation (type, Head/neck/body, legs, walk, trot).
Touchdown 1338 placed 4d in the Swedish Breeder´s Trophy as 4-year old and got 8.5-9.0 by testrider Charlotte Dujardin.
Philipp Ruwe (SWE) and Touchdown 1338 placed 2d in the Folksam Open final in Falsterbo for 5-year olds with 74.198%.
Ruwe and Touchdown 1338 got 8.2 for trot, 9.0 for walk, 8.5 for canter, 8.5 for submission, 8.8 for perspective, total 8.60 and placed 5th in the small final for 5-year olds at the World Breeding Dressage Championships for Young Horses.
Christoph Koschel (GER) and Touchdown 1338 has won class M with over 70% in Germany 2019.
Touchdown 1338 covered 57 mares 2016-2019 and has been gelded (available through frozen).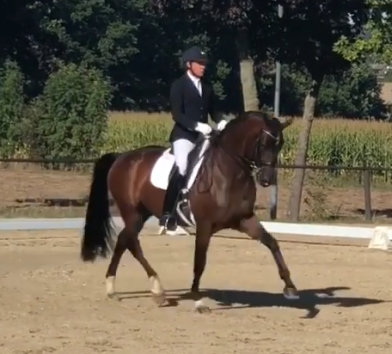 Christoph Koschel and Touchdown 1338 (SWB).
Touchdown 1338 at 70-days test in Celle.
Touchdown 1338 at 70-days test in Celle.
Source https://www.facebook.com/Verbena-Dressage-Skeppstrand
Details
Swedish Warmblood are 7th in the HorseTelex (earnings) ranking (from 2020-01-01 to 2020-03-01) with 23 horses at the international dressage competitions.
Bocelli 1044's daughters Mazy Klövenhöj (SWB born 2008 out of Manzana xx by National Zenith xx-Record Token xx, breeder Annette Karlsson) and Ichi (SWB born 2006 out of Dynastie (F2) 27067 by Donnerschlag-Amiral, breeder Miota AB) have won the most money.

Elite and former Grand Prix stallion Bocelli 1044 (SWB born 1999 by Don Schufro out of Ballerina (76) 24034 by Bernstein-Toe Hold xx, breeder Gränsbo stuteri) is in 27th placed in the HorseTelex (earnings) ranking (from 2020-01-01 to 2020-03-01) of all dressage sires.

Details
CSI*** Winter Equestrian Festival week 10 Wellington, Florida, USA march 10-15

Bliss Heers (USA) and Cayani SN (SWB born 2008 by Cayado out of Happy Lou 27802 by Voltaire-Irco Marco, breeder Birgitta Jonasson / Stora Nääs Stuteri) placed 7th in $37.000 Equinimity WEF Challenge Cup Rd X and 9th in $137.000 Horseware Ireland Grand Prix.
Tiffany Foster (CAN) and and Northern Light (Northern Comme Plot, SWB born 2011 by Plot Blue out of Cést ma Cherie by Contender-Lacros, breeder Ingrid Ragnarsson) placed 4d in $37.000 Equinimity WEF Challenge Cup Rd X.
Molly Ashe Cawley (USA) and Mr Cash (SWB born 2012 by Click and Cash out of Pukarla 30150 by Holland-Joost, breeder Carola Lilja and Maria Karlsson) placed 14th in 1.45, $37.000 Bainbridge Classic and 16th in 1.45, $37.000 Douglas Elliman Classic.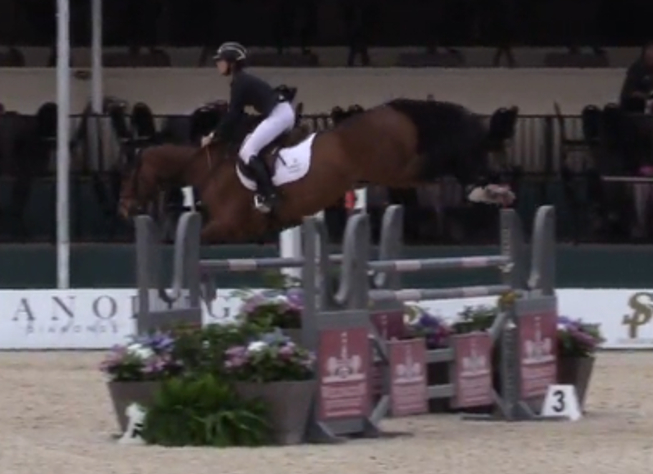 Bliss Heers and Cayani SN (SWB).
Source https://pbiec.coth.com
Details
CCI****-L/CCI****-S/CCI***-L Barroca d´Alva, Portugal march 5-8
Philippa Magnusson (SWE) and Cesar (SWB born 2010 by Crelido out of Coco Chanell TH (36) 29500 by San Quintero xx-Trofé, breeder Affärskompetens i Visby AB) placed 5th in CCI****-L.
Details
The Stallion Show at the Stallion Performance Test 2020, february 28 at Grevagården in Skövde, Sweden
Seven stallions, five show jumper stallions and two dressage stallions, were shown in a show at the Swedish Stallion Performance Test. Two of the stallions are Swedish Warmblood.

Approved stallion Baloé Hp 1342 (SWB born 2014 by Balou du Rouet out of Unta by Clearway-Corrado I, breeder/owner Malin Carlsson, Hipparion HB) with Arnold Assarsson.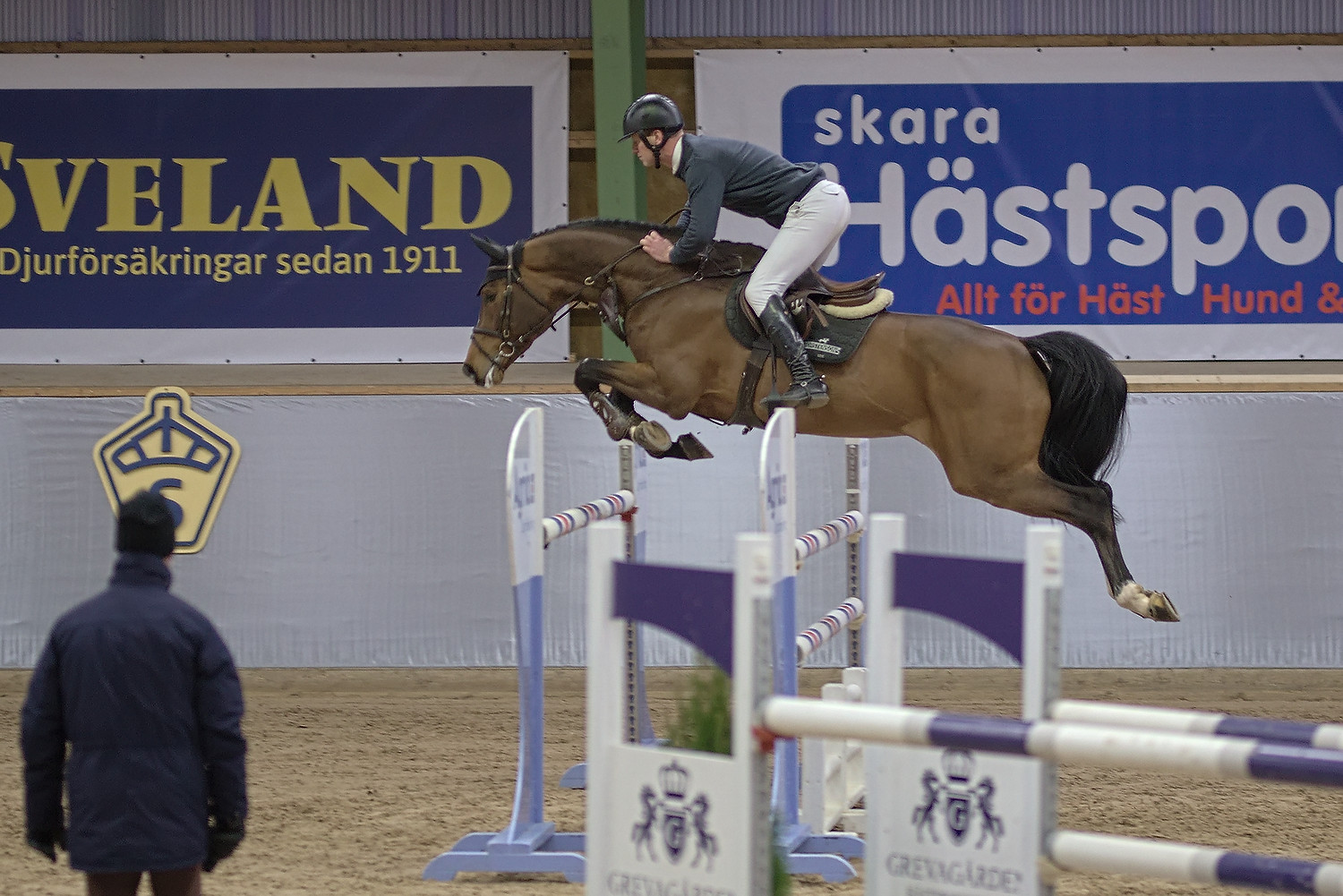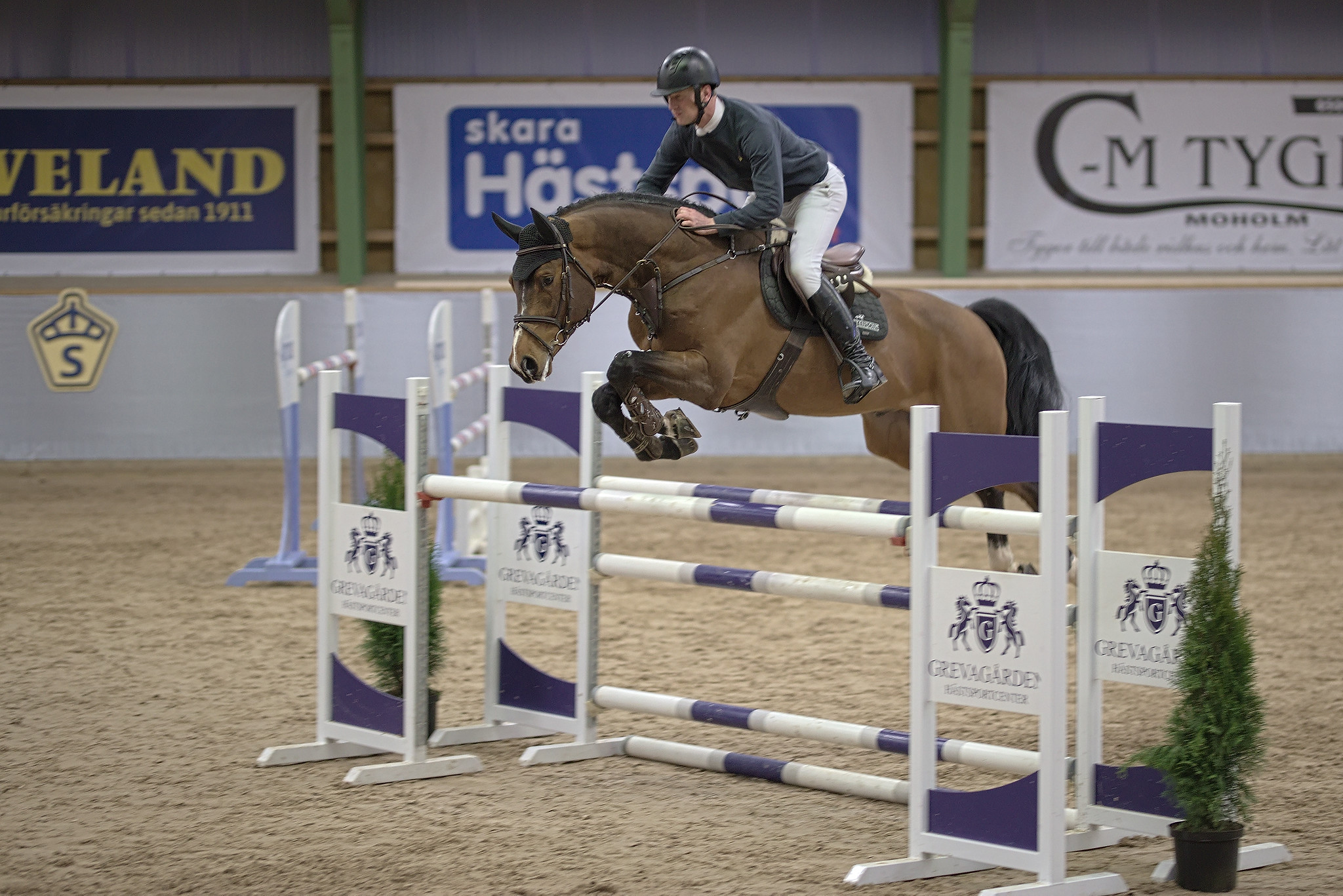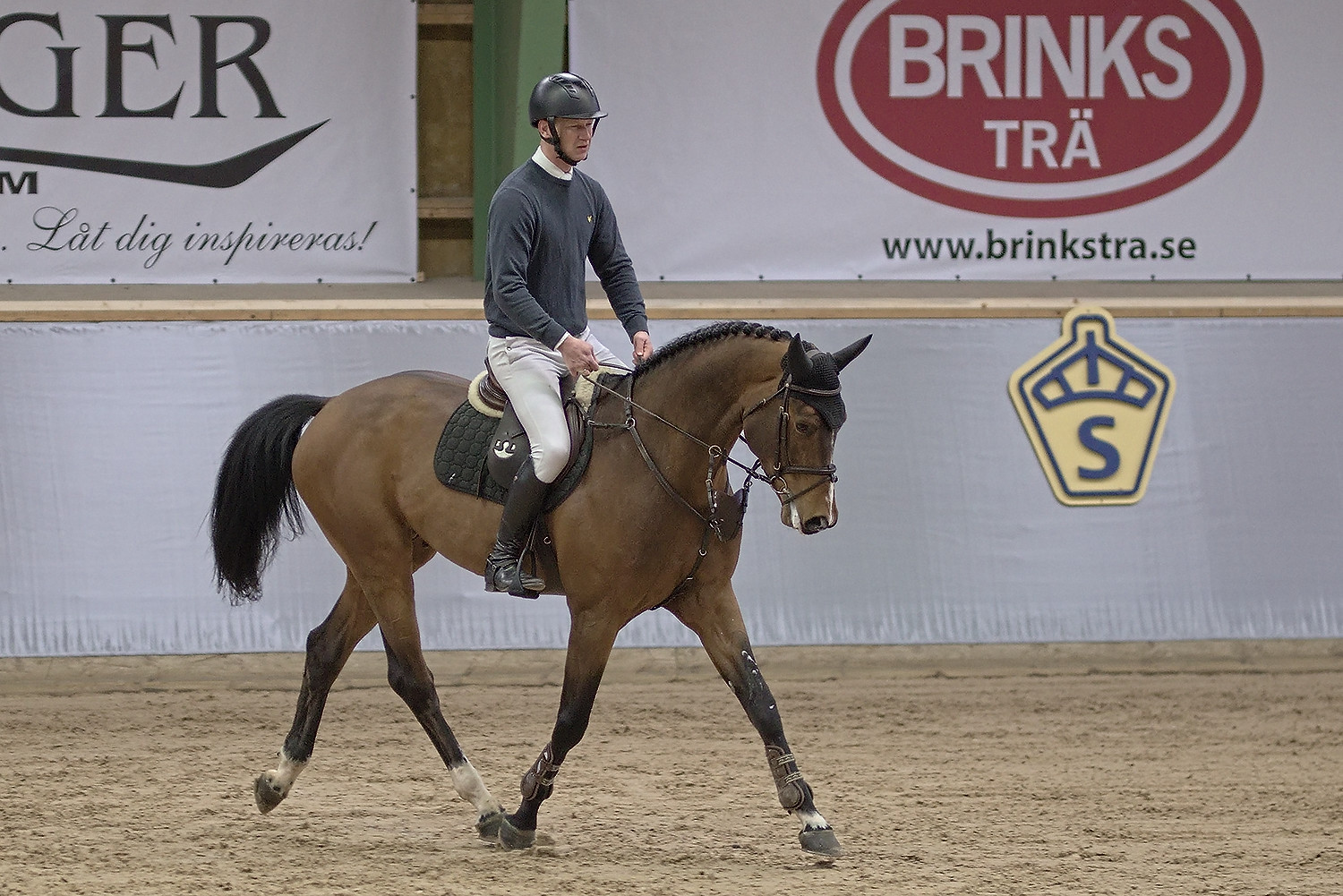 Photos Jöns Leandersson.
Approved stallion Zafferano 1325 (SWB born 2013 by Zaladin MI out of Baby Doll 29800 by Bernstein-Chagall, breeder/owner Verbena AB) with Mattias Jansson. Jansson and Zafferano 1325 also jumped some jumps with the dressage saddle.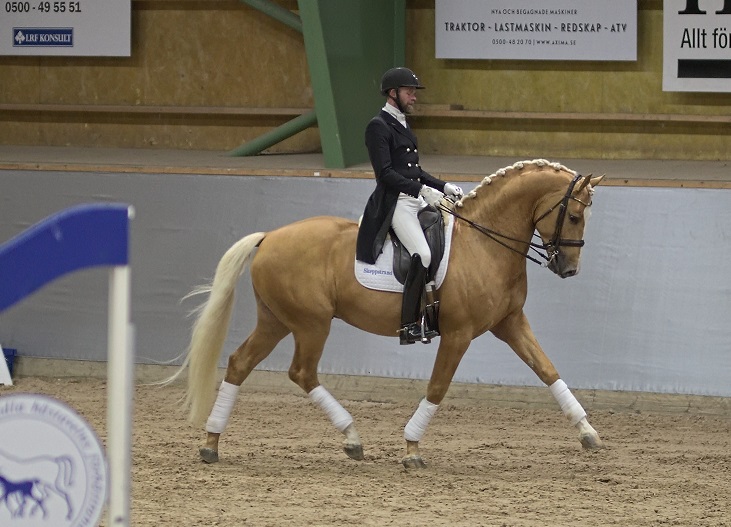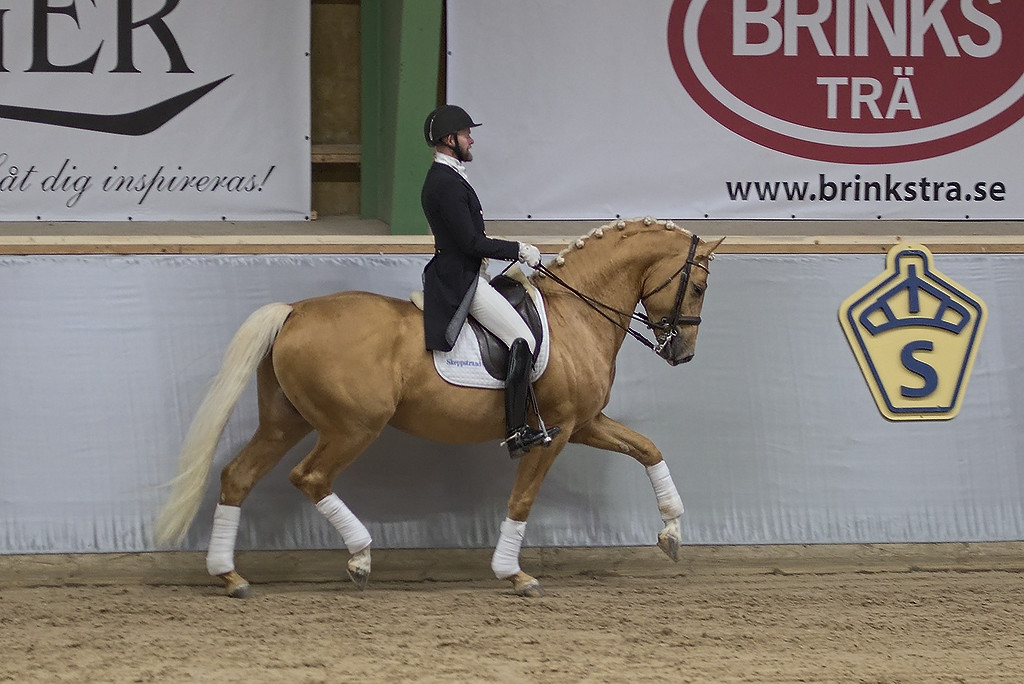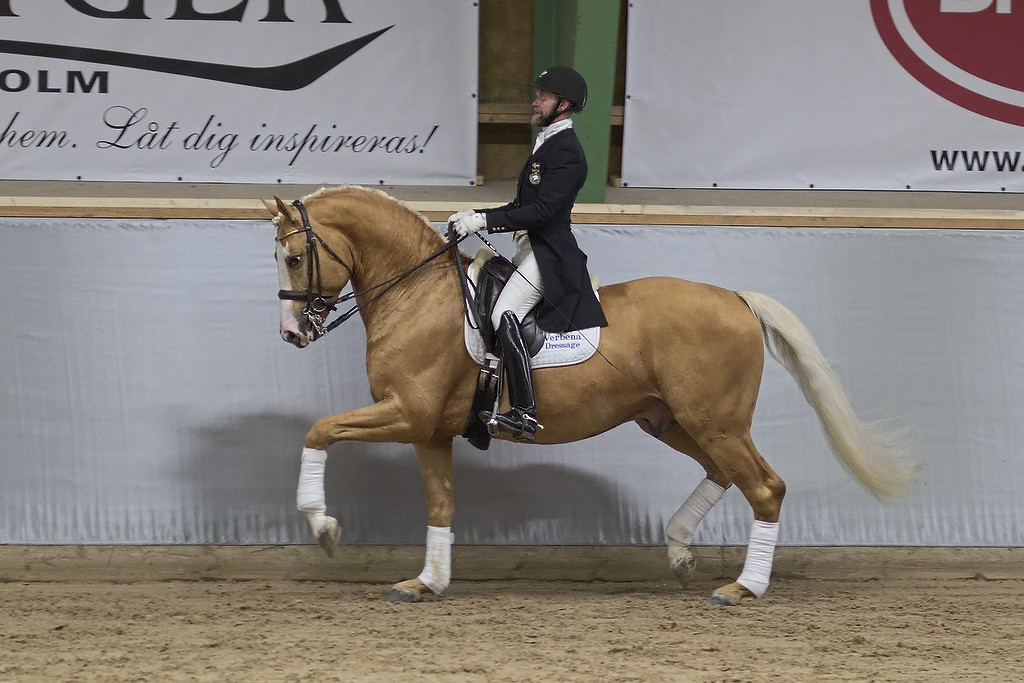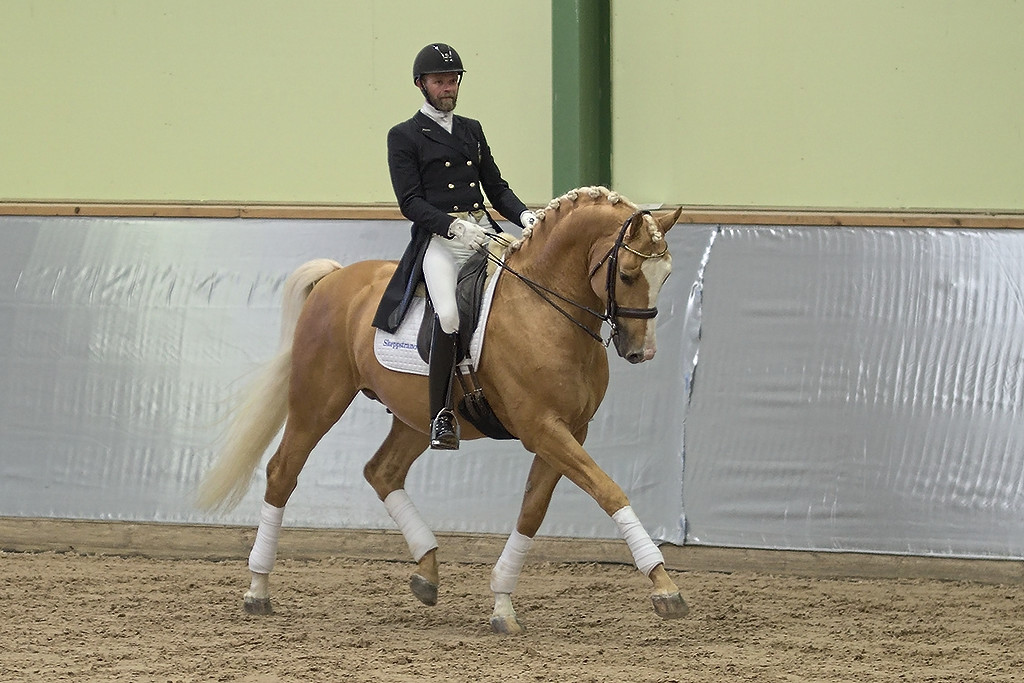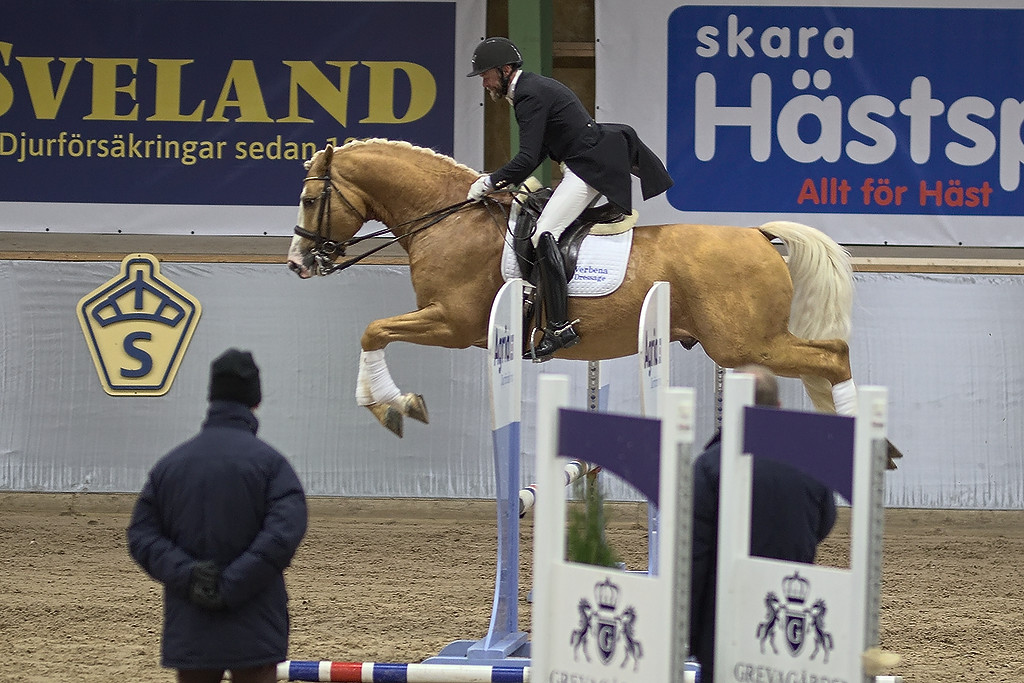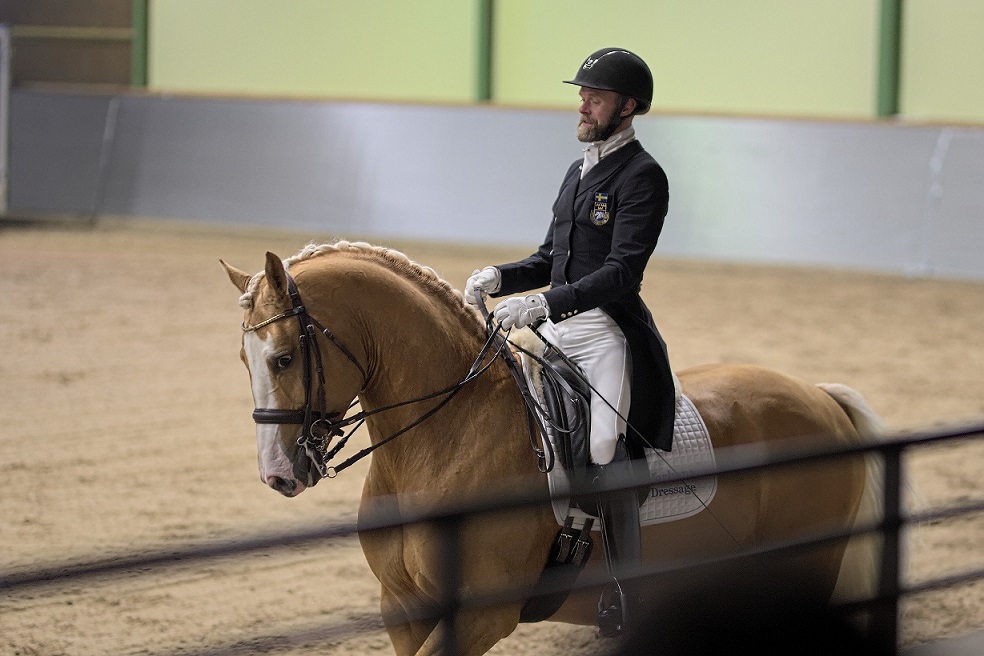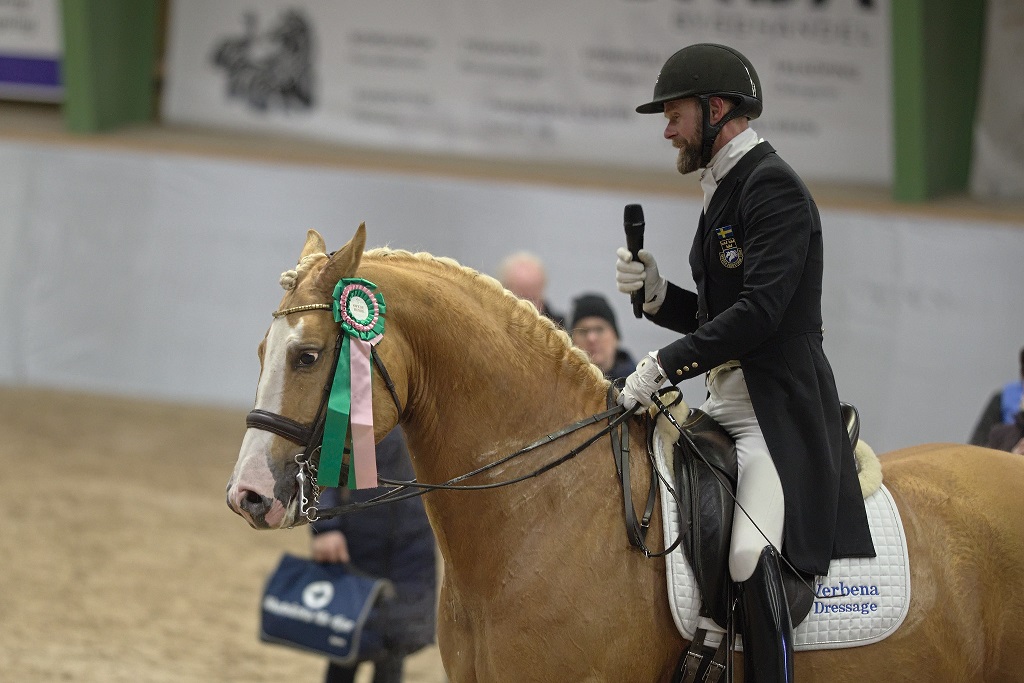 Photos Jöns Leandersson.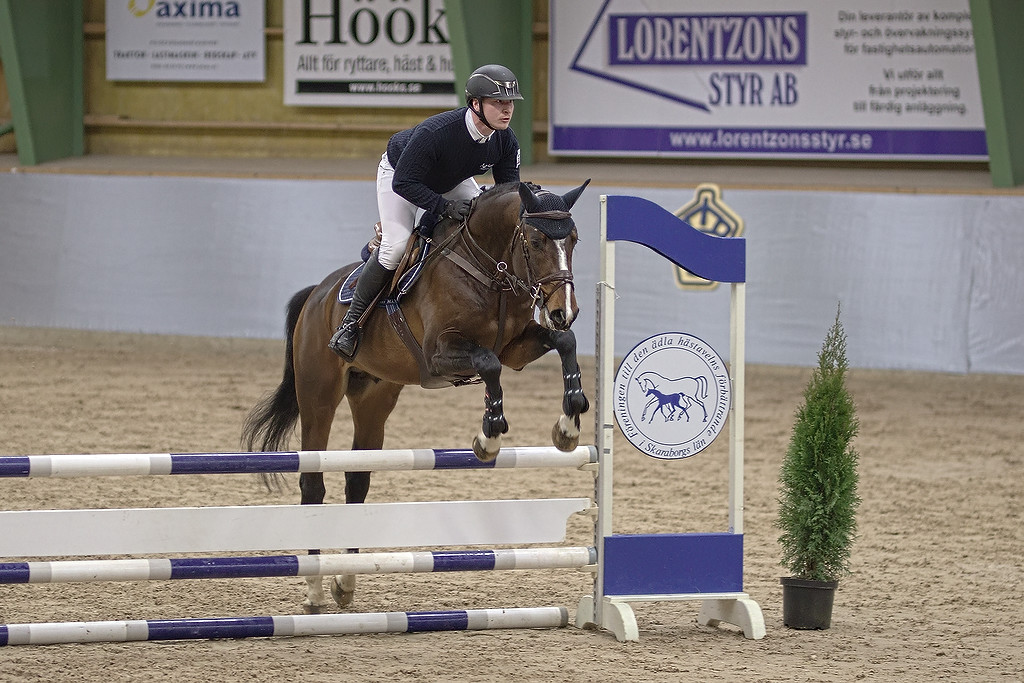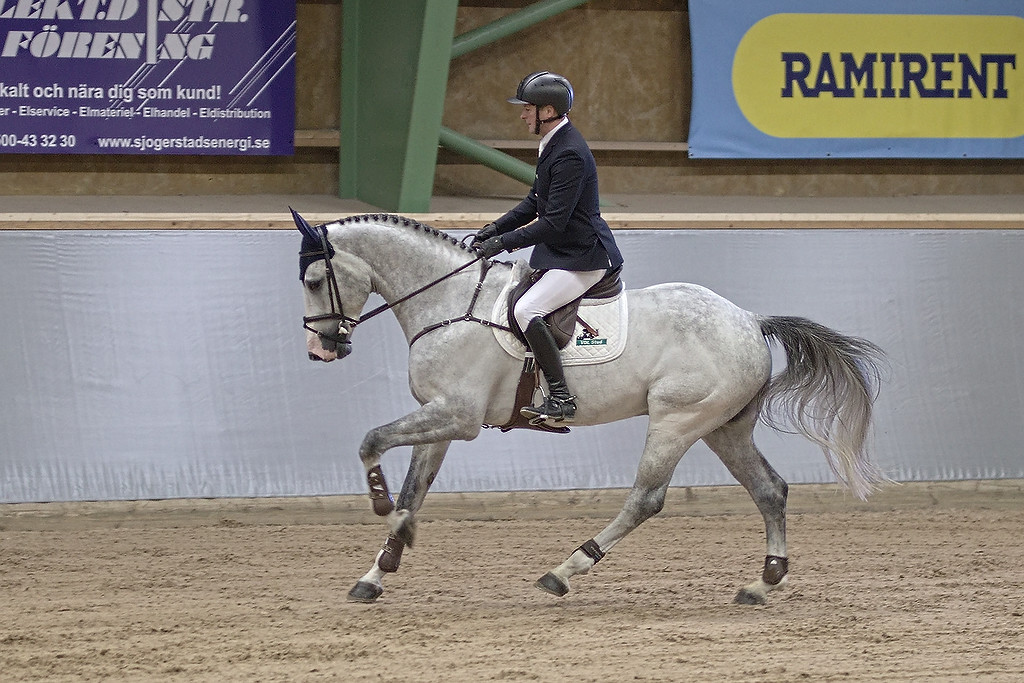 Quick-Star ter Putte 9468 and Kintaro VDL 1393.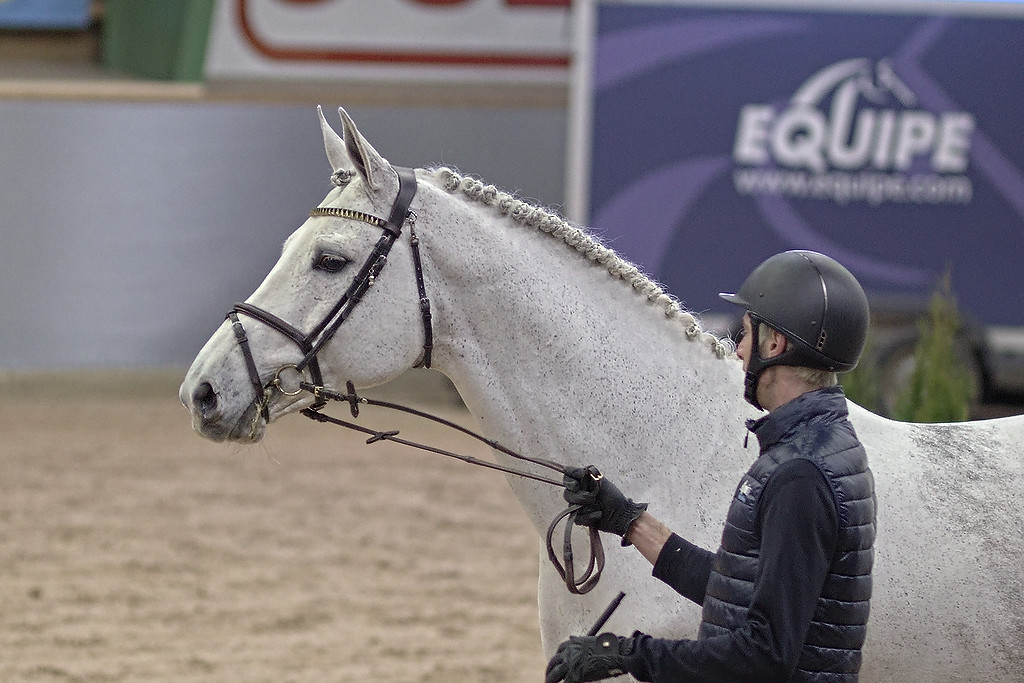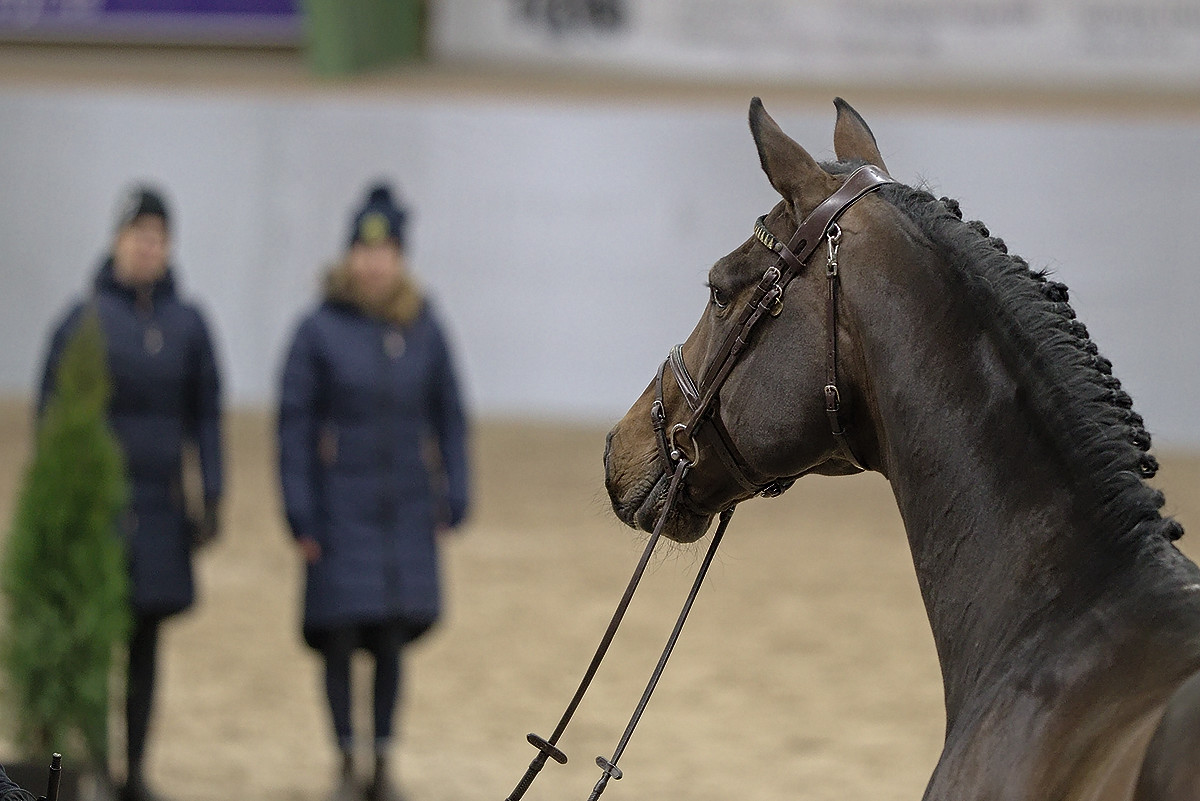 Bravour 1197 and Contant Q 1203.
Photos Jöns Leandersson.
Related articles;
Two Swedish Warmblood stallions approved >>
The Swedish Stallion Performance Test 2020 >>