Details
CDI*** Helsinki, Finland october 25-26
Sandra Dahlin (SWE) and Ichi (SWB born 2006 by Bocelli out of Dynastie (F2) 27067 by Donnerschlag-Amiral, breeder Miota AB) won both Grand Prix with 71.522% and Grand Prix Freestyle with 74.105%.
Details
CDI***-W Herning, Denmark october 19-20
Minna Telde (SWE) and Isac (SWB born 2005 by Hip Hop out of Abigail (F2) 25229 by Master-Ciceron, breeder Per-Christer Bengtsson) placed 10th in Grand Prix Freestyle with 76.505%.
Source https://online.equipe.com
Details
CSI*****-W Oslo Horse Show, Norway october 16-20
Peder Fredricson (SWE) and Crusader Ice 1357 (SWB born 2011 by Cabachon out of Tarusa 27661 by Corland-Nimmerdor, breeder Thina Stigsson, ISG AB) placed 8th in 1.50.
Rikke Budsberg (NOR) and Out Standing Lucas ES (SWB born 2009 by Camaro M out of Royal Romance Z 25477 by Rebel Z-Cantab xx, breeder Selina Johansson) placed 10th in 1.45.
Sara Nilsson (SWE) and Dia Nova (SWB born 2010 by Diamant de Revel out of Cardinova by Cardento-Tabac, breeder Hans-Ola Joelsson) placed 12th in 1.45 and 12th in 1.40.
Hannah Nyhaug (NOR) and Carisma (SWB born 2009 by Caressini L out of Odessa by Grannus-Azur, breeder Stall Ambros, Augusta Speiser) placed 5th in 1.30.
Marika Brorsson (SWE) and Lucky Shot (SWB born 2011 by Contendro I out of Lucky Santangelo 90041 by Levantos II-Santa's Sleigh xx, breeder Lisa Lundgren) placed 6th in 1.30.
Sara Nilsson (SWE) and Hugo Boss (SWB born 2012 by Balou du Rouet out of Stella 28972 by Cardento-Maraton, breeder Skattagård AB) placed 10th and 11th in 1.30.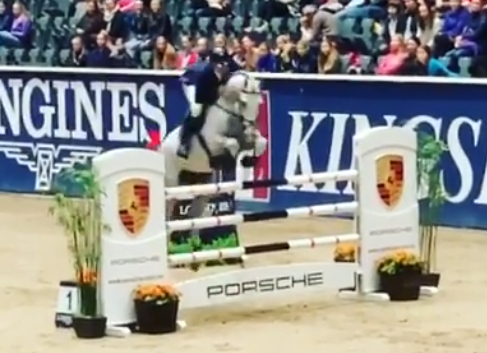 Peder Fredricson and Crusader Ice 1357 (SWB).
Details
CSI***-W Del Mar International Horse Show, USA october 16-20
Viggo Björklund (SWE) and Zaloubet (SWB born 2007 by Maloubet de Pleville out of Zarastra (23) by Robin Z-Hubertus, breeder Ann-Sophie Persson and Hans Orest) placed 8th in 1.60, World Cup.
Zazou Hoffman (USA) and Samson II (SWB born 2004 by Cardento out of Batista 27400 by Bellini-Utrillo, breeder Lars-Torgny Lasson) placed 10th in 1.60, World Cup and 15th in 1.50, $36.500 CaptiveOne.
Details
CDN Stacey Berry Memorial Dressage Show, Franktown Meadows, Carson City, USA october 19
Charlotte Jorst (USA) and Quarton (SWB born 2009 by Quaterback out of Delight (F2) 26813 by Don Schufro-Mowgli, breeder Per-Arne Persson) won Intermediarie I with 78.6%!
Source http://www.foxvillage.com