Details
CSI*** Echweiler, Germany april 20-23
Alexander Zetterman (SWE) and Lucky Lisa (SWB born 2010 by Heartbeat out of Lucky Me Z by Lux Z-Cortus, breeder Nygårdens stuteri and vet.praktik HB) placed 4d in 1.60.
William Whitaker (GBR) and Hortensia Af Jennyhill (SWB born 2009 by Heartbeat out of Bonecyst 23114 by Strong Statement xx-Emalj, breeder Jennyhills vet. o hästv. AB) placed 11th in 1.45.
Source https://horsetelexresults.com
Details
Royal Ambition (SWB born 2010 by Baltimore out of Royal Faith 29932 by Akribori-Cesam, breeder Jenny Jansson) was first sold to Andres Rodriguez and Hardin Towell, USA.
Royal Ambition is renamed to Clementine and has already competed in hunter classes by her new owner Jennifer McGee. They was Reserve Circuit Champions at Winter Equestrian Festival on april 6.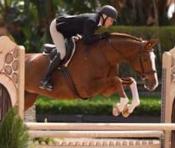 Details
CCI****/CCI*** Burnham Market, Great Britain april 12
Ludwig Svennerstål (SWE) and Stinger (SWB born 2007 by Spender S out of On a Pedestal xx 28750 by Waajib xx-Tanfirion xx, breeder Skånegårdar AB) placed 5th in CCI****.
Details
The Swedish Stallion Viggo B MagiQ (born 2015 by Vivaldi K out of Bounce Magi by Maloubet de Pleville-Stanford, breeder Rebecca Giegold and Niclas Magnusson) is approved by Mecklenburg.
Dame Bounce Magi is a diploma mare and she got 8-9 for free jumping as 3-year old.

His color comes from the Stallion Pegasus (in 5th line) on the dame´s side.
Details
CDI*** Wellington, USA march 28-31
Amanda Lopez (USA) and Quantum (SWB born 2004 by Quite Easy out of Bordighera (36) 19249 by Maraton-Galant, breeder Lena Nyström) placed 2d in Prix St Georges with 67.265% and 5th in Intermediarie I with 66.324%.
Jessica Costello (CAN) and Cosmos (SWB born 2002 by Don Schufro out of Smiling Queen (65) 24825 by National Zenith xx-Iran, breeder Poul Erik Lang) got 65.539% in Intermediaire I and 63.725% in Prix St Georges.
Source http://www.foxvillage.com