Details
Anna Zibrandtsen's has sold her rising Grand Prix horse Igeral D (SWB born 2011 by Briar out of Esmeralda D by Richfield-Racot, breeder M&D Showhorses) to the USA. He is bought by Olivia Lagoy-Weltz´s sponsor Mary Anne McPhail as a prospective United States team horse.
Igeral D was sold to Zibrandtsen at the Swedish Elite Foal Auction and is shown at M-level with three victories in just as many starts and with a top score of 74.6%.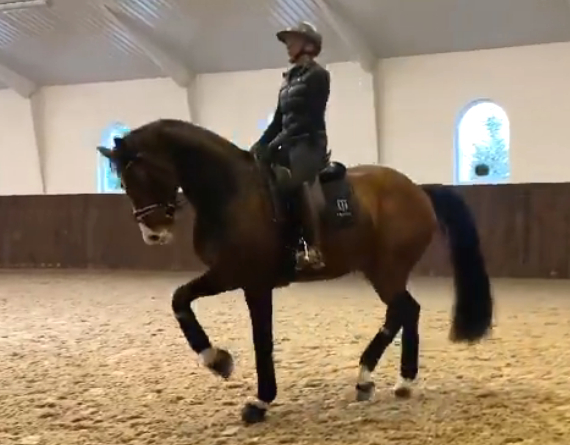 Igeral D is already with Olivia at Haymarket, Virginia: "He's a sweet guy," Olivia said. "Very different type for me. Like a little sports car."
Source https://dressage-news.com and https://eurodressage.com
Details
CSIO***** Nations Cup Dublin, Ireland august 17-21
Steve Guerdat (SUI) and Albfuehren's Maddox (SWB born 2011 by Cohiba out of Miami (37) 29335 by Maraton-Happy Day, breeder Liselotte Tillberg) placed 3d in 1.60.
Details
Nine Swedish Warmblood are nominated to the World Equestrian Games in Pratoni del Vivaro, Italy.
Eventing
Sara Algotsson Ostholt (SWE) and Chicuelo (SWB born 2011 by Click and Cash out of Expensi by Empire-Steves Friend xx, breeder Agneta Lembke)
Aminda Ingulfsson (SWE) and Joystick (SWB born 2008 by Jaguar Mail out of For Joy SN 28855 by Cardento-Irco Marco, breeder Louise Sternros and Bertil Frost) and Hot Cup VH (SWB born 2009 by Hotline out of Cupea VH (31) 26843 by Corrado WL-Beach Boy, breeder Västra Hoby Stuteri AB)
Frida Andersen (SWE) and Box Leo (SWB born 2010 by Jaguar Mail out of Box Qutie by Quite Easy-Little Boy, breeder Therese Örup)
Malin Josefsson (SWE) and Golden Midnight (SWB born 2008 by Goldmine xx out of Duva (F2) by Maraton-Alpen Fürst, breeder Gert Hermansson) and Maggan V (SWB born 2012 by Jaguar Mail out of Munsboro Mahogoney by Legal Pressure xx-Hail Station, breeder Miki and Per Josefsson)
Amanda Staam (SWE) and Corpoubet AT (SWB born 2013 by Corporal VDL out of Bulgari by Baloubet du Rouet-Mirko, breeder Tobias Nilsson)
Niklas Lindbäck (SWE) and Focus Filiocus (SWB born 2007 by Feliciano out of Blue Bells xx 28447 by Be My Chief xx-Nijinsky II xx, breeder Tun Albertson)
Lina Forsberg (SWE) and Kaizen (SWB born 2008 by Caressini L out of Madame Butterfly 25444 by Nocturne-Presto xx, breeder Johan Björk)
Driving
none
Source https://www.fei.org
Details
Emma Tingsby´s mare Zinobi (SWB born 2007 by Akribori out of Zara Zeta xx by Island Reef xx-Some Hand xx, breeder Marie Andersson) has passed away.
Zinobi was unfortunately seriously injured during the cross country in CCI**-S at Maarsbergen, Netherlands in july. The damage occurred in the landing after the penultimate obstade. Zinobi got a fracture in one front leg and she underwent immediate surgery in Netherlands. Today she was put to sleep at the clinic.
Emma writes "The best friend in the world ❤️💔 how will I survive without you 💔💔💔💔💔 so grateful for everything we got to experience with you. Heavy sadness to never see you again ❤️❤️❤️".
Emma Tingsby and Zinobi won the Nordic Batitic Championships with Team Sweden last year.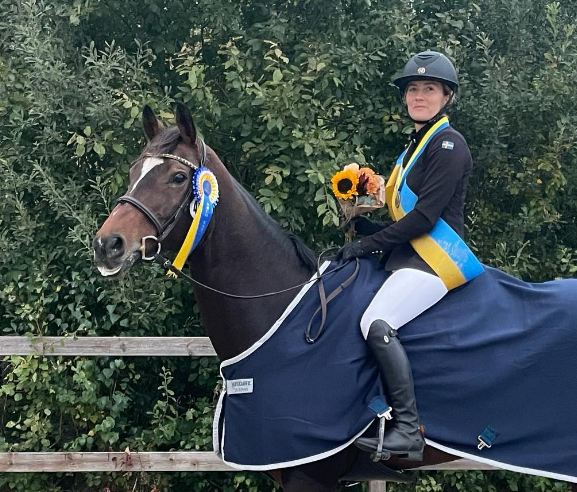 Source https://www.instagram.com
Details
World Championships Jumping Herning, Denmark august 10-14

Jens Fredricson (SWE) and Cosmopolit (SWB born 2011 by Cohiba out of Olida by Calido I-Ahorn Z, breeder Sören Savgren) jumped a clear round in 1.65, Individual - Third Competition - Round A and got two down in Round B. They placed 10th in the Final!