Details
CDN Aiken, SC, USA january 28-29
Serene Pifer (USA9 and Don Diablo (SWB born 2002 by De la Gardie out of Troja (5) 24019 by Troll-Brabant, breeder Camilla Sudas) won Grand Prix Adult Amateurs with 54.457%.
Details
CDI-W Amsterdam, Netherlands january 25-28
Patrik Kittel (SWE) and Touchdown 1338 (SWB born 2012 by Quaterback out of La Mour 25810 by Sack-Judex xx, breeder Verbena AB) placed 8th in Grand Prix with 74.065% and 5th in Grand Prix Freestyle with 82.645%!
Eurodressage writes: "The light-moving 11-year-old gelding showed super-soft passage, and - in classic Kittel style - the three-time Olympic rider and showman extraordinaire whipped the crowd into a frenzy of excitement with his final line of extended trot that was greeted with wild applause".
Evelina Söderström (SWE) and Cilantro (SWB born 2007 by Johnson out of Cinnamon 28607 by Hertug-Weltmeyer, breeder Ylva Joyce) placed 4d in Grand Prix for U25 with 69.658% and 7th in Grand Prix Freestyle for U25 with 67.767%.
Details
CSI*****-W Leipzig, Germany january 19-22

Wilma Hellström (SWE) and Cicci BJN (SWB born 2011 by Ci Ci Senjor Ask out of Tittut BJN (F2) by Tornesch-Irco Marco, breeder JM Sohlman HB) placed 6th in 1.60, World Cup!
Linda Heed (SWE) and Heartcore L (SWB born 2012 by Heartbeat out of Diamant K by Cortez-Darnels, breeder Lögshögs Gård AB) placed 5th in 1.45 and 14th in 1.45.
Antonia Häsler (GER) and Dynamite N (SWB born 2010 by Nintender out of Larissa 29211 by Landfriese I-Gepard, breeder Helen Helmersson) placed 3d, 7th and 11th in 1.40.
Linda Heed (SWE) and Simona VS (SWB born 2016 by Stakkato out of Escape VS by Escudo I-For Feeling, breeder Viksbergs Säteri AB) placed 7th and 8th in 1.35 and 9th in 1.40.
Details
CDN Munster, Germany january 11-15
Malin Wahlkamp-Nilsson (SWE) and Bergsjöholms Valbonne 1376 (SWB born 2013 by Zack out of Via Veneto (F2) by Epson-Favorit, breeder Marita Strauch, Stall Bergsjöholm) won Grand Prix with 73.980% and placed 6th in Grand Prix Special with 72.079%.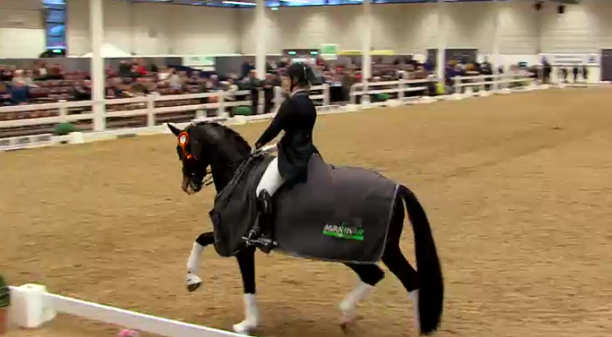 Source https://results.hippodata.de
Details
CSI*****-W St Jacobshalle, Basel, Switzerland january 12-15
Pénélope Leprevost (FRA) and Texas (SWB born 2011 by Tornesch out of Pangea by Robin Z-Nurprimus, breeder Göran Linell) won 1.50!
Daniel Deusser (GER) and Loui LN (SWB born 2014 by Kannan out of Bijoux by Cartani-Athletico, breeder Louise Nyberg) placed 6th in 1.45.