Details
Emelie Brolin´s Contact (SWB born 1991 by Tabac out of Colette II (11) 19375 by Furioso III-Brabant, breeder Jeppe Börjesson) has passed away.
Emelie Brolin and Contact placed 9th individual and 6th with the Swedish team at the European Junior Riders Championships 2002 and placed 7th with the Swedish team at the European Young Riders Championships 2003. They won both individual and with the Swedish team at the Nordic Junior Rider Championship 2002. Brolin and Contact won the Swedish Junior Rider Championship 2002 and the Swedish Young Rider Championship 2003.

Emelie writes: "He was the first horse I rode piaff and passage on. But most importantly, he has been my best friend for twenty years and I am so grateful for everything we have done together".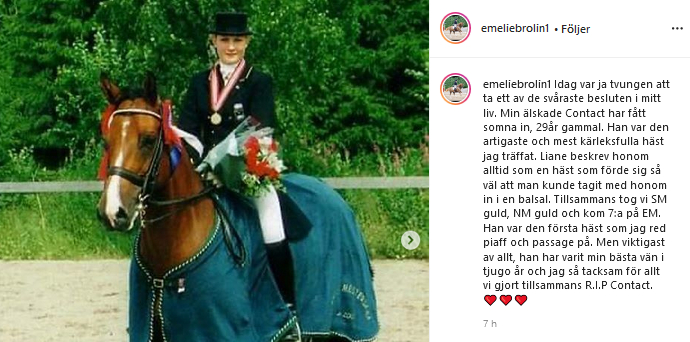 Contact´s dam Colette II was also dam of Cathrine Dufour´s Cadillac (SWB born 1998 by Oldtimer xx).
Source https://www.instagram.com
Details
CSI** Tryon (Fall 3), USA september 30-october 3
Anna Beth Athey (USA) and Nat King Cole (SWB born 2010 by Diamant de Revel out of Bonny M by Camaro M-Willibald, breeder Björn Carlsson) placed 19th in 1.45, $37.000 Welcome Stake.
Details
CSI** Gorla Minore, Italy september 24-27
Helena Lundbäck (SWE) and Sportman (SWB born 2010 by Stolzenberg out of Contessa (13) 29642 by Cortez-Labrador, breeder Djurö Gård HB) placed 6th in 1.45, Grand Prix and 15th in 1.45.
Helena Lundbäck (SWE) and Klara F (SWB born 2008 by Carland out of Iljah Fortuna 23139 by Dutchboy-Nimmerdor, breeder Gunnel and Kjell Frölin) placed 5th in two 1.35.
Details
CDI**** Hagen, Germany september 25-27
Amanda Lindholm (SWE) and Rozette (SWB born 2007 by Rosevelt out of Lagette 28614 by Ragazzo-Anart, breeder Britt-Marie H-Ivarsson) placed 4d in Junior Freestyle to Music with 73.840%, 6th in Juniors Individual test with 69.755% and 8th in Juniors Team test with 69.798%.
Details
CCI****/CCI*** Baborowko, Poland september 25-27
Anna Freskgård (SWE) and Techno (SWB born 2009 by Hip Hop out of Tatti 19774 by Swift-Jarramas, breeder Lena Vikman) placed 10th in CCI****-S.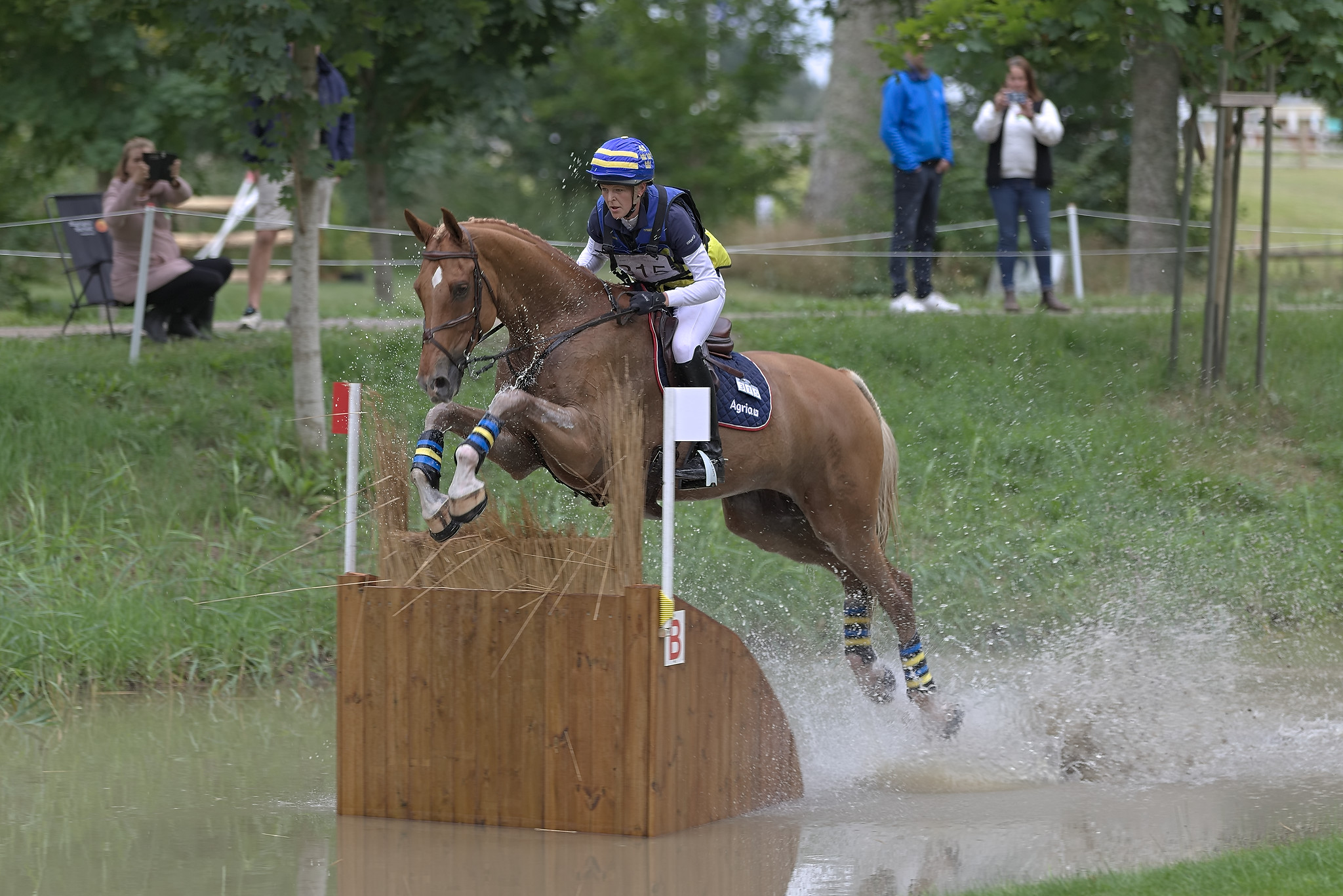 Anna Freskgård and Techno (SWB) at Segersjö 2020.
Photo Jöns Leandersson.