Details
Darren Chiacchia (USA) and Labrette (SWB born 1981 by Labrador 588 out of Ennethe (13) 10135 by Emir 471-Juan 370, breeder Bengt W. Borg) placing 3d in a three-day eventing in USA 1990.
The mare Labrette was exported to USA in 1983.
A fullsister to Labrette, Lisethe (13) 14981, is dame to Helena Lundbäck´s international show jumper Conan.
Grand dame Josephine (13) 8620 is dame of three approved stallions – Lambert 589 (by Emir 471), Napoleon 625 (by Iran 533) and Utopi 732 (by Labrador 588).
Details
Gina Capellmann-Lutkemeier´s Amando (SWB born 1990 by Amiral out of Erbella (34) 16733 by Indus-Varolio, breeder Susanne Hall) has passed away.
Amando and his breeder Susanne Hall placed 3d in the Young Dressage Horse Championship in Malmö 1995.
The Capellman family bought Amando as an 8-year old in 1998 and first he was ridden by Nadine Capellmann but in July 1998 Gina made her show debut on him.
Amando was Gina's most successful dressage horse in the 2000s. They placed 9th in the World Cup Final 2002 and 11th in the World Cup Final 2003.
In 2007 Fabienne Lutkemeier took over Amando from her mom as a schoolmaster. They placed 6th in the 2008 Piaff Forderpreis Finals in Stuttgart.
Amando was retired from sport in 2009 and since then enjoyed a happy retirement in the field.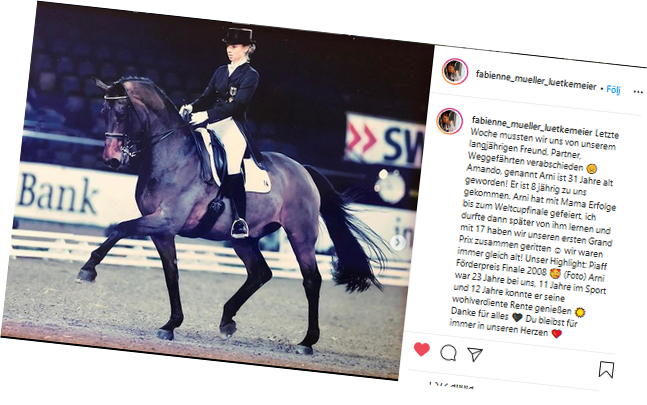 Amando, 26-year old, in 2016:


Source https://www.horses.nl and https://www.instagram.com
Details
CDN Hogsta Dressyrryttare, Lovön, Drottningholm, Sweden july 24-26
Emilie Nyreröd (SWE) and Manuel (SWB born 2007 by Metall out of Hawanna 27017 by Highlight-Weinbrand, breeder Rigmor and Johnny Svensson) won Intermediarie II with 68.578%.
Lo Dahlquist Mörkenstam (SWE) and Welton Five (SWB born 2001 by Weltman out of Tema 24988 by Maraton-Tasano, breeder Annika Andersson) placed 2d in Intermediarie II with 64.363%.
Jeanna Högberg (SWE) and Astoria (SWB born 2012 by Sir Donnerhall II out of Aquarell 30071 by Quaterback-Rubinrot, breeder Hipponews KB, Christina Olsson) won Intermediarie I with 76.765%!
Matilda Linder (SWE) and Frank Wild (SWB born 2013 by Firenze out of Wild Wilma 28995 by Warsteiner-Nactus, breeder Anita Rostner) won MSV:A with 68.419%.
Linda Aronson (SWE) and Diablo DS (SWB born 2010 by Don Romantic out of Argentina DS by Argentinus-Sandro, breeder Nina Sixtensson) placed 4d in MSV:A with 65.256%.
Source https://online.equipe.com
Details
CSN San Juan Capistrano, CA, USA july 15-19
Zazou Hoffman (USA) and Samson II (SWB born 2004 by Cardento out of Batista 27400 by Bellini-Utrillo, breeder Lars-Torgny Lasson) placed 2d in 1.45.
Details
CDN Oscala, FL, USA july 18-19
Holly Such (USA) and Stiletto (SWB born 2008 by Sandakan out of Danina (2) 29030 by Danone I-Ceylon, breeder Joffre & Co. HB) placed 2d in two Intermediarie II with 63.66% and 59.853%.