Details
CSI** Gent, Belgium february 20-22
Erika Lickhammer van Helmond (SWE) and All I Got Is U (SWB born 2010 by Algot out of Queen Gordon 29586 by Robin Z-Leluot, breeder Ulrika Jacobs) won the Masters class!
Source https://online.equipe.com
Details
Niklas Jonsson´s former Grand Prix jumper Amorina (SWB born 1997 by Cortez out of Gallia 15454 by Galant-Hurricane xx, breeder/owner Märta Haby) has passed away.
Amorina got diploma for her gaits with 887889=48 points as 3-year old and diploma for her jumping with 99 as 4-year old.
Niklas Jonsson (SWE) and Amorina was placed in international 1.50.
Amorina left five offspring´s; Amorinas Spicy Kick (SWB born 2013 by Boss), Amorinas Crunchy Pop (SWB born 2014 by Common Sense), Amorinas Munter (SWB born 2015 by Corporal VDL), Amorinas Hot Mix (SWB born 2017 by Canterbury) and Amorinas Booomerang (SWB born 2019 by Ike).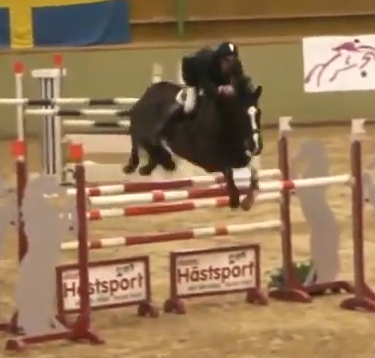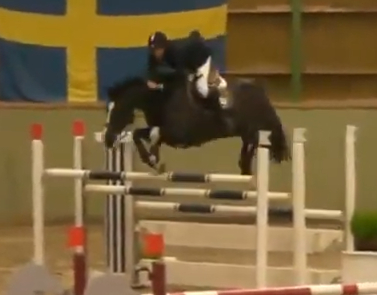 Borås Grand Prix 2007:
Details
CSI*** Winter Equestrian Festival week 6 Wellington, Florida, USA february 11-16
Bliss Heers (USA) and Cayani SN (SWB born 2008 by Cayado out of Happy Lou 27802 by Voltaire-Irco Marco, breeder Birgitta Jonasson / Stora Nääs Stuteri) placed 11th in $37.000 Equinimity Challenge Cup.
Selcuk Koksalan (TUR) and Fine (SWB born 2008 by Corlensky G out of Cicilia (58) 18506 by Ciceron-Jasper, breeder Kastanjegården AB) placed 10th in 1.30, $2.000 Jumper.
Fine owns since january by Leyla Stables LLC (99%) and rider Selcuk Koksalan (1%). Fine competed international with Daniel Meech (NZL) in 2016-2019 (they competed at the World Championship in Tryon 2018), Oleksandr Onyshchenko (UKR) in 2019 and Laurens Houben (BEL) in 2019.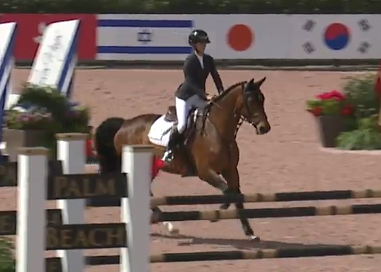 Bliss Heers and Cayani SN (SWB).
Source https://pbiec.coth.com
Details
CDI*** Norwegian Horse Festival 2020, Lillestrøm, Norway february 13-16
Jeanna Högberg (SWE) with Fiorucci Ht (SWB born 2009 by Florencio I out of Riviera by Rubinrot-Larino, breeder Absolut Dental AB) won Grand Prix Freestyle to Music with 72.980% and 5th in Grand Prix with 67.370%.
Gunilla Byström (SWE) and Vectra (SWB born 2005 by Silvano out of Vanda (F2) 29143 by Amiral-Vagabond, breeder Carolin Ljungcrantz and Håkan Kindblom) placed 2d in Grand Prix Freestyle to Music with 71.560% and 4d in Grand Prix with 67.587%.
Thea Katarina Bråten (NOR) and Pia Pia (SWB born 2009 by Highcruiser out of Paradis by Raphael-Placido, breeder Thomas Andersson) placed 5th in Intermediarie I Freestyle to Music with 67.010%.
Anine Mørch Aas (NOR) with Maserati 1204 (SWB born 2005 by Metall out of Bentley 28626 by Tip-Top-Magritte, breeder Carina Bengtsson) placed 3d in Young Riders Freestyle to Music with 70.533% and 3d in Young Riders Individual with 65.931%.
Emma Løkken (NOR) and Jude Law (SWB born 2009 by Heslegård's Rubin out of Black Velvet (40) by Bellini-Ampere, breeder Elise Fredriksson) placed 2d in Junior Team with 67.121%, 3d in Junior Individual with 67.647% and 4d in Junior Riders Freestyle with 68.65%.
Source https://online.equipe.com
Details
CSI*** Sunshine Tour week 1, Vejer de la Frontera, Spain februay 12-15
Pontus Westergren (SWE) and Addison (SWB born 2010 by Nintender out of Arizona (14) by Ragazzo-Alpen Fürst, breeder Eva and Bo Pettersson) placed 2d in 1.45.
Pontus Westergren (SWE) and Warmachine (SWB born 2012 by Carrera VDL out of Umay de Olympica by Oramé-Jus de Pomme, breeder Interbreed AB) placed 6th in 1.30.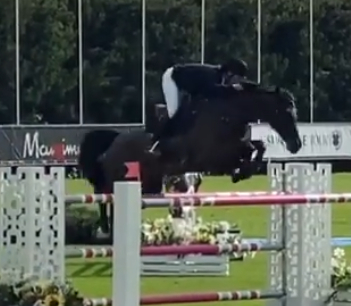 Pontus Westergren and Addison (SWB).