Details
Hofgut Albfuhren has secured  Bianca (SWB born 2006 by Balou de Rouet out of Coco (34) 27114 by Cardento-Maraton, breeder Skattagård AB) for Steve Guerdat (SUI).
Details
Viking Hästak (SWB born 2014 by Heartbeat out of Rosali Hästak by Carmargue-Fortus Hästak, breeder Hästak AB) won the 35-days stallion preformance test for 4-year olds in Denmark. He got 9 for technique under rider and capacity and 836.5 points in total.
Source http://varmblod.dk
Details
CSI*****-W Madrid, Spain november 22-25
Mark McAuley (IRL) and Miebello (SWB born 2004 by Quite Easy out of Bellamie by Cardento-Pik Bube, breeder Johan Lundh) placed 9th in 1.50.
Details
CSI** Lier, Belgium november 22-25
Alice Tapper (SWE) and Doge Dogelito (SWB born 2008 by Hip Hop out of Come Fleure (36) 28818 by Comefast xx-Robin Z, breeder Elenor Gustafsson) placed 7th in 1.45.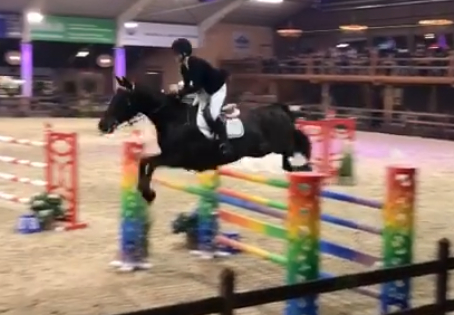 Alice Tapper and Doge Dogelito (SWB).
Details
CSI** Peelbergen Winter Tour Kronenberg, Netherlands november 22-25
Mathijs van Asten (NED) and Yagudin (SWB born 2009 by Berlin out of Dainty (36) 23452 by Irco Mena-Vagabond, breeder Marita Nordgren) placed 12th in 1.45.
Source https://online.equipe.com
You are here:  

Sport & Breeding News