Details
CSI*****-W Lyon, France october 30-november 3
Mark McAuley (IRL) and Miebello (SWB born 2004 by Quite Easy out of Bellamie by Cardento-Pik Bube, breeder Johan Lundh) placed 4d in 1.60, Equita Masters.
Details
CAI-W Lyon, France november 2-3

Boyd Exell (AUS) with Demi (SWB born 1998 by D-Day out of Flami (50) 16725 by Napoleon-Flamingo, breeder Bollerups Lantbruksinstitut), Bajnok, Barny and Rocket won both the Opening competition and World Cup!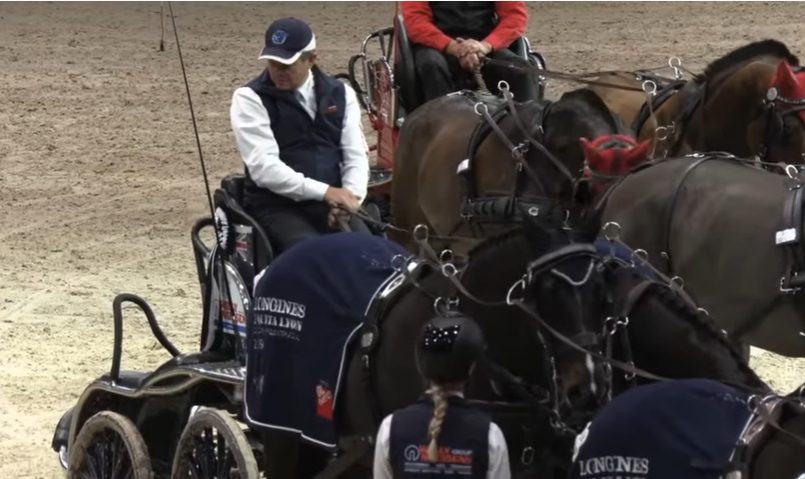 Boyd Exell with Demi (SWB).
Details
CSI**** Liège, Belgium september 31-november 3
Alexander Zetterman (SWE) and Lucky Lisa (SWB born 2010 by Heartbeat out of Lucky Me Z by Lux Z-Cortus, breeder Nygårdens stuteri and vet.praktik HB) placed 2d in 1.50 and 5th in 1.45.
Alexander Zetterman (SWE) and Triton Hästak 1330 (SWB born 2012 by Cabachon out of Harmonien by Winningmood vd Arenberg-Carpaccio, breeder Hästak AB) placed 11th in 1.30 (for 7-year olds).
Source https://online.equipe.com
Details
CDN Holiday Kick Off Dressage, Newberry, FL, USA november 2-3
Coutney Varney (USA) and Zinderella (SWB born 2011 by Zuidenwind out of Dancing Queen 25850 by Warsteiner-Jolly Good xx, breeder Yvonne Persson) won Intermediarie I with 67.206%.
Anna Merritt (USA) and Fuego (SWB born 2007 by Hailo out of Fasta by Master-Johanniter, breeder Andrew Palmer) got 63.088% and 62.500% in Prix St Georges.
Details
CSI*** Vilamoura, Portugal october 31-november 3
Jake Hunter (AUS) and Last Romance (SWB born 2011 by Canto out of Irco Romantica (F2) 26437 by Irco Marco-Mowgli, breeder Sofie Olsson) placed 3d in 1.45.
Michael Pender (IRL) and Zhardas KIL (SWB born 2012 by Chacco Blue out of Charis Q by Charity-Apollo, breeder Karin Göransson) placed 3d in 1.35 and 11th in 1.30.
Linda Heed (SWE) and True Grit (SWB born 2011 by Cardento out of Senorita Nikita (34) by Briar-Steinbeck, breeder Top Equestrian Wear AB) placed 5th in 1.35.
Emma Broända (FIN) and Clifford MB (SWB born 2007 by Chicago Z out of Gelsomina MB 24617 by Landlord-Martini, breeder Annika Bäckgren) placed 6th in 1.30.
Luis Negrao (POR) and Nattasha (SWB born 2007 by Ronaldinho H out of Natty Light 29442 by Cardento-Prince Mab xx, breeder Flyinge AB) placed 10th in 1.30.
Source https://online.equipe.com