Details
CDN Danish Derby Hestesportsrideklub, Vilhelmsborg, Denmark august 27-30
Jeanna Högberg (SWE) and Astoria (SWB born 2012 by Sir Donnerhall II out of Aquarell 30071 by Quaterback-Rubinrot, breeder Hipponews KB, Christina Olsson) placed 2d in Intermediarie II with 70.702%.
Lovisa Wessblad (SWE) and Quentin SV (SWB born 2008 by Quaterback out of Fadriana 28313 by De Niro-Vivaldi, breeder Britta Hermansson) placed 2d in Prix St Georges with 69.956%.
Source https://online.equipe.com
Details
CCN***-S/CCN**-S Hermanstorp, Sweden august 8-9
Linda Algotsson (SWE) and Fair Spot (SWB born 2009 by Balougraph out of Fairytale 29130 by Levantos II-Prince Fair xx, breeder Margareta Algotsson) won CCN***-S.
Sandra Gustafsson (SWE) and Koordinat (SWB born 2007 by Laptop out of Kandela (F1) 28345 by Robin Z-Hertigen, breeder Birgit Jönsson) placed 3d.
Philippa Magnusson (SWE) and Cesar (SWB born 2010 by Crelido out of Coco Chanell TH (36) 29500 by San Quintero xx-Trofé, breeder Affärskompetens i Visby AB) placed 4d.
Aminda Ingulfson (SWE) and Hot Cup VH (SWB born 2009 by Hotline out of Cupea VH (31) 26843 by Corrado WL-Beach Boy, breeder Västra Hoby Stuteri AB) placed 5th.
Elvira Stafverfeldt (SWE) and Aaqilles (SWB born 2009 by Caressini L out of Questa L by Quite Easy-Contender, breeder Inger and Benny Freme) placed 6th.
Jelena Femic (SWE) and Wharton Street (SWB born 2010 by Camaro M out of Quick Step (50) by Quite Easy-Stanford, breeder Anna-Christina Larsson) placed 7th.
Linda Algotsson (SWE) and Aramis (SWB born 2011 by Cartier out of Ariel (14) 26426 by Alpen Fürst-Gulliver, breeder Eva and Bo Pettersson) placed 3d in CCN**-S.
Rebecka Tell (SWE) and Christall (SWB born 2009 by Caressini L out of Aquasia by San Quintero xx-Napoleon, breeder Rebecka Tell and Ann-Louise Melltoft) placed 4d.
Ellen Skogström (SWE) and Car Dior (SWB born 2003 by Cardento out of Surprise KLT 21085 by Robin Z-Kew Gardens xx, breeder Susann Olsson) placed 6th.
Source https://online.equipe.com
Details
CDN East Troy, WI, USA july 30-august 1
Joan Leuck (USA) and Barrington (SWB born 2003 by Akribori out of Be Happy 20122 by Ganesco-Eminent, breeder Kjell E. Olsson) won three Intermediarie I with 68.382%, 64.853% and 63.529%.
Details
Darren Chiacchia (USA) and Labrette (SWB born 1981 by Labrador 588 out of Ennethe (13) 10135 by Emir 471-Juan 370, breeder Bengt W. Borg) placing 3d in a three-day eventing in USA 1990.
The mare Labrette was exported to USA in 1983.
A fullsister to Labrette, Lisethe (13) 14981, is dame to Helena Lundbäck´s international show jumper Conan.
Grand dame Josephine (13) 8620 is dame of three approved stallions – Lambert 589 (by Emir 471), Napoleon 625 (by Iran 533) and Utopi 732 (by Labrador 588).
Details
Gina Capellmann-Lutkemeier´s Amando (SWB born 1990 by Amiral out of Erbella (34) 16733 by Indus-Varolio, breeder Susanne Hall) has passed away.
Amando and his breeder Susanne Hall placed 3d in the Young Dressage Horse Championship in Malmö 1995.
The Capellman family bought Amando as an 8-year old in 1998 and first he was ridden by Nadine Capellmann but in July 1998 Gina made her show debut on him.
Amando was Gina's most successful dressage horse in the 2000s. They placed 9th in the World Cup Final 2002 and 11th in the World Cup Final 2003.
In 2007 Fabienne Lutkemeier took over Amando from her mom as a schoolmaster. They placed 6th in the 2008 Piaff Forderpreis Finals in Stuttgart.
Amando was retired from sport in 2009 and since then enjoyed a happy retirement in the field.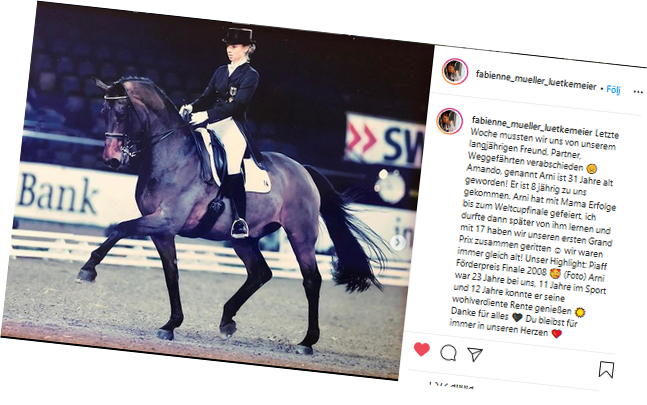 Amando, 26-year old, in 2016:


Source https://www.horses.nl and https://www.instagram.com