Details
CDN Munster, Germany january 11-15
Malin Wahlkamp-Nilsson (SWE) and Bergsjöholms Valbonne 1376 (SWB born 2013 by Zack out of Via Veneto (F2) by Epson-Favorit, breeder Marita Strauch, Stall Bergsjöholm) won Grand Prix with 73.980% and placed 6th in Grand Prix Special with 72.079%.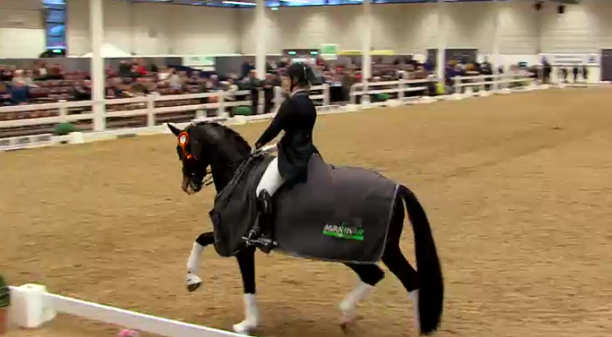 Source https://results.hippodata.de
Details
CSI*****-W St Jacobshalle, Basel, Switzerland january 12-15
Pénélope Leprevost (FRA) and Texas (SWB born 2011 by Tornesch out of Pangea by Robin Z-Nurprimus, breeder Göran Linell) won 1.50!
Daniel Deusser (GER) and Loui LN (SWB born 2014 by Kannan out of Bijoux by Cartani-Athletico, breeder Louise Nyberg) placed 6th in 1.45.
Details
CDN Thermal, CA, USA january 6-8
Laura De Cesari (USA) and Rossi (SWB born 2012 by Romanov out of Cadenza (1) 29997 by Vivaldi-Campari M, breeder Carol Reid) placed 3d in Grand Prix with 64.891% and 3d in Grand Prix with 65.652%.
Michelle Reilly (USA) and Lazlo (SWB born 2011 by Connaisseur out of Charlie´s Angel by Warsteiner-Tabac, breeder Anna Sjöbom) won Intermediate I with 62.647% and placed 2d in Intermediate I with 63.529%.
Details
CSI***** Geneva, Switzerland december 8-11

Peder Fredricson (SWE) and Catch Me Not S (SWB born 2006 by Cardento out of Ralméa by Ramiro´s Son-Almé Z, breeder Krister Svedberg) placed 3d in 1.60, the Top Ten final! They also placed 15th in 1.60, Grand Prix.
Joana Schildknecht (SUI) and Catrina J (SWB born 2011 by Contant Q out of Miss Robinzon 24327 by Robin Z-Roman Way xx, breeder Jan Jävergård) placed 7th in 1.45, 12th in 1.45 and 7th in 1.40.
Details
CDI***** Stockholm, Sweden november 26-27
Patrik Kittel (SWE) and Touchdown 1338 (SWB born 2012 by Quaterback out of La Mour 25810 by Sack-Judex xx, breeder Verbena AB) placed 3d in Grand Prix Freestyle with 83.660% and 5th in Grand Prix with 77.892%!