Details
CDN Strömsholm, Sweden april 30-may 2
Gunilla Byström (SWE) and Vectra (SWB born 2005 by Silvano out of Vanda (F2) 29143 by Amiral-Vagabond, breeder Carolin Ljungcrantz and Håkan Kindblom) won Grand Prix Freestyle with 72.975% and Grand Prix with 69.928%.
Clara Espinosa (SWE) and Gordon (SWB born 2003 by Guinness out of Ibi Gardenia (62) by Angard-Midt-West Ibi-Light, breeder Louise Nathorst) placed 2d in Grand Prix with 68.768%.
Source https://online.equipe.com
Details
CSI**** St Tropez, France april-may 2
Pénélope Leprevost (FRA) and Texas (SWB born 2011 by Tornesch out of Pangea by Robin Z-Nurprimus, breeder Göran Linell) placed 15th in 1.40.
Details
CSI** Opglabbeek, Belgium april 29-may 2
Mathijs van Asten (NED) and Yagudin (SWB born 2009 by Berlin out of Dainty (36) 23452 by Irco Mena-Vagabond, breeder Marita Nordgren) placed 5th in 1.45 and 15th in 1.45.
Details
CCI****-L/CCI****-S/CCI***-L/CCI***-S Strzegom, Poland april 29
Niklas Lindbäck (SWE) and Focus Filiocus (SWB born 2007 by Feliciano out of Blue Bells xx 28447 by Be My Chief-Nijinsky II, breeder Tun Albertson) placed 2d in CCI****-S.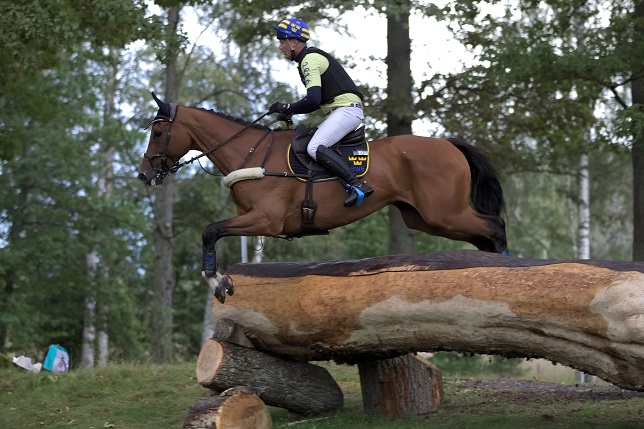 Niklas Lindbäck and Focus Filiocus (SWB) at Segersjö in august 2018.
Photo Jöns Leandersson.
Details
CSI*** Lier, Belgium april 29-may 2
Marit Haarr Skollerud (NOR) and Stenhaga Tulip Tatoo (SWB born 2009 by Caressini L out of Tulipan by No Limit-Faldo, breeder Isabell Hellman-Svanberg) placed 10th in 1.50.